Cooperstown, New York is a drinking town with a baseball problem.  One of the shining examples of this is the famous Brewery Ommegang.  This brewery makes some of the finest beers in the country and has a level of refinement that is legend… (wait for it) …dary but this comes at a price when you visit as you have to suffer through long lines, longer waits, and of course exorbitant pricing on your trinkets and souvenirs to bring home.
Cheers:
Jeers:

Outstanding beer for anyone who enjoys the Belgian style beers
A nice tasting experience with a fun souvenir glass to take home
All reports point to some excellent food however we were not able to partake

Long lines at the cash register, long wait times for beer tastings, long wait times for tours, long wait times for tables
Some of the highest pricing I have seen at any brewery for clothing and souvenirs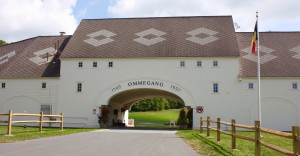 To many, a voyage to Ommegang is almost like a religious pilgrimage.  Ironically, the name Ommegang is an old Flemish word that means to "walk about" and was coined in the 1300s naming a processional to celebrate the theft of a sacred statue, it's a long story and you can read more about it here.  Through the years, the Ommegang became a bit less of a religious event and a bit more of a party and this Upstate New York brewery has taken its name from these celebrations held twice a year in Brussels and Antwerp, both in Belgium.
Brewery Ommegang broke ground on their facility, modeled after a traditional Belgian farm house, in 1995 and began brewing in 1997 on the site of the old Lyons farm.  The first beer they ever brewed was the Abbey Ale in '97 and they now brew as many as 20 different labels annually including some cult classics like the Game of Thrones limited edition batches.  Their beers are fully organic and they source as many ingredients locally as possible.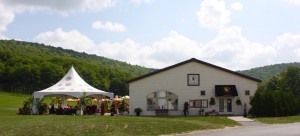 Two years ago, Ommegang partnered with Cornell University to begin a study on growing techniques and the science behind hops production.  In the 1800's, the Cooperstown, New York area was knows as Hops City and was the number one hops growing area of the country until a blight decimated the crops and ended this era. Now, through science, an effort is being made to perfect the hops production and the great part is that when the research project is done in another two years, Ommegang and Cornell will be open-sourcing the data in a effort to revitalize this industry.
There is not much negative you can say about the beer at Brewery Ommegang (so long as you like a Belgian style brew).  Their process is refined and polished to a level that most other microbreweries can not even dream of.  Even their first time run beers taste like they have been at it for 10 years perfecting the recipe.  A tasting room is located just off the gift shop with a tasting session held every half hour.  We had a 40 minute wait to get into a tasting from when we arrived and signed in.  The tastings are $5 per person but for this modest fee, you will sample six different beers and you get to keep the miniature brandy snifter you use for the samples.  One word of caution, the folks behind the bar in the tasting room will be offering you a variety of cheese spreads to taste on pretzels.  These are made with different Ommegang beers like Rare Vos and Abbey Ale and are a bit high on the horseradish content and are … incredible.  If you try it, you will likely need to buy it and you can plan on dropping nearly $8 for each little tub after tax.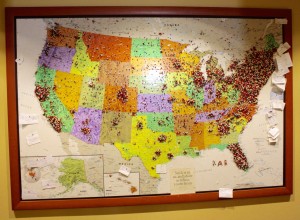 For a wider selection of beers available by the glass or the growler, you can visit the bar where a total of 10 different beers were on tap.  While at the bar, take a look just outside the bathroom at the "show us where you are from" map.  For years, people have been putting push pins in this US map to show how far they have come for they visit.  It is an impressive map and an impressive number of push pins.  The beer list below was what was available on our visit in the first weekend of September, 2015.
Sampled
in the tasting room
Witte
Witbier
ABV 5.2%
IBU 11
Grains of Truth
American Pale Ale
ABV 5.8%
IBU 20
Hennepin Farmhouse Saison
Saison / Farmhouse Ale
ABV 7.7%
IBU 24
Gnomegang
Belgian Blond / Golden
ABV 9.5%
IBU 26
Abbey Ale
Belgian Double
ABV 8.2%
IBU 20
Three Philosophers
Belgian Quad
ABV 9.7%
IBU 19
Also avalible in the restreaunt:
Hop House
Belgian Pale Ale
ABV 6.0%
IBU 50
Rare Vos
American Amber / Red Ale
ABV 6.5%
IBU 21
Cuvee Brut (Brouwerij Liefmans Guest Tap)
Sour Ale
ABV 6.0%
Nirvana IPA
American IPA
ABV 6.5%
IBU 60
Fleur de Houblon
Begian Pale Ale
ABV 6.8%
Cooperstown Ale
American Blonde Ale
ABV 5.5%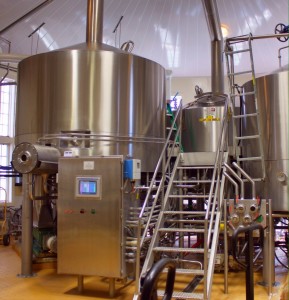 If you like to see the workings behind the scenes, Ommegang offers a free factory tour every hour on the hour.  You also need to sign up for a tour and there can be a long wait list; we had to wait just over an hour to get into a group.  A couple of warnings … no open toed shoes, no sleeveless shirts, and you will need to wear safety glasses.  Plan ahead.  If you do have open toed shoes, they will provide you with a pair of crocks to wear, these are well used and there is some ick factor for sure; if you need sleeves, there are some tour shirts available that will make you look like a bowling star; and there is a box filled with the latest fashion in safety glasses. Our advice, show up with the proper shirts and shoes so you don't have to borrow theirs.  The tour itself was interesting, We got to see the largest brewing equipment we have seen outside of the Yuengling factory tour and you can ask any questions you like.  A couple of bits of info gleaned from the tour:  Ommegang bottles in 12oz and 750ml bottles with the cork tops because that is traditionally what you would find in Belgium.  Each year, they produce 4 million 12oz bottles and 2.5 million 750ml bottles.  At capacity, they can run 60,000 12oz bottles per day.  They have installed a 1 million dollar waste treatment plant so that the waste water going into the Susquehanna is cleaner than the water it is going into.  They have a plan for MAJOR expansion that will happen over the next ten years.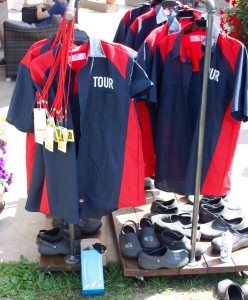 The other stop on your tour of Brewery Ommegang should be the restaurant.  You can eat inside at massive family style tables or outside on a patio with ample umbrellas to provide shade.  We tried, we really wanted to sample the food, but we left without eating and were frankly disgusted by the staff.  When we arrived at just before noon, the restaurant was empty.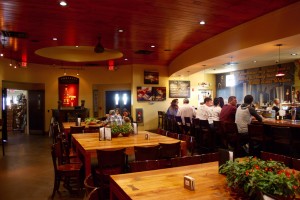 By 1:30, it was quite busy however there were two tables for two open.  We got in the long line for seating and watched two couples ahead of us in line walk away without putting their name on the list because of the long wait.  When we got to the front of the line we were told it would be a 30-40 minutes wait.  We asked about the two empty tables and were told "there is a wait, 30-40 minutes" again.  We walked away confused as to why people were being told to wait when there were empty spots.  It's possible others had been called to sit at those tables and hadn't arrived yet, but after nearly 20 minutes of sitting idle, the tables were still empty.  This seemed odd that the restaurant could be so poorly run based on how polished every other part of their business is.  We found out later on that you can get reservations and maybe this had something to do with it it but there was no way to know.  We moved on and ate elsewhere as did the other two couples and Ommegang lost business.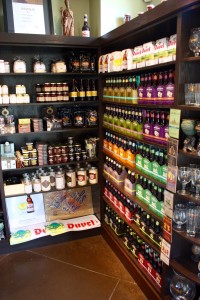 We spent some time in the gift shop looking around but never found anything where the price tag and the perceived value seemed to align.  They had some beautiful aluminum water bottles but they were $26-28 a piece, shirts ranged at the very low end at $20 up to nearly $100, in general, all the prices just seemed too high and not worth the leap.  Interestingly enough, most of their souvenirs are cheaper on their web site, save your cash, head home, and order them on line.
It's a Wrap
Brewery Ommegang is a neat place to visit with some tremendous beer and we hear, food as well.  Make sure you do it all, a tasting, a tour, a meal, just plan ahead, wear closed toed shoes, shirts with sleeves, get a reservation, buy your Ommegang merchandise before you go, and if you can, visit on a week day.  (If you get shut out of the restaurant due to wait times, try out either Council Rock just around the corner or Root's in Oneonta)  If given the chance to bring home a growler of Three Philosophers and a tub of Abbey Ale cheese spread, we think you can not go wrong.
| | |
| --- | --- |
| Overall Rating | |
| Quality and Selection of Beer | |
| Quality and Selection of Food | |
| Family Friendliness (For those who care) | |

The Details
Address

656 Country Highway 33
Cooperstown, NY 13326
607.544.1800
http://www.ommegang.com

Check their events calendar to be sure they are open on the day you plan to visit, they are in effect closed on concert days as well as Thanksgiving, Christmas, and New Years.

Summer Hours:

Retail Store and Cafe open daily from 11am – 6pm
Dinner Service Thurs-Sat from 6pm-9pm
Winter hours start Sept 8th:
Retail Store and Cafe open daily from Noon – 5pm
Dinner Service Friday-Sat from 6pm-9pm