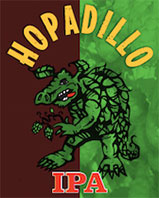 Here's the short review: Rodeo Clown Light. If you want to read more, please continue:
Hopadillo. This was my least favorite Karbach beer for months. It's not that it is bad. Their other beers are just too good. I honestly never tried more than a couple sips of it. Than a unique situation presented itself that changed my view.
I had tickets to a concert downtown on a Friday night, but I left early enough to swing by Karbach for a couple pints and dinner from whatever food truck was there. Obviously I got the Rodeo Clown first, one of the best brews from Houston. But I couldn't stay as long as I normally do, and didn't have the time to safely enjoy another 9.5% Double IPA. But I still wanted something hoppy. So I ventured out of my comfort zone and got the Hopadillo.
Following right off the tails of the Rodeo Clown, I figured out something. Hopadillo taste very much like Rodeo Clown – just much lighter. Yes, I realize this should be obvious, considering it is the single IPA from the same company of the double IPA, i.e. 1+1=2. But if you hadn't done the math, it becomes clear when drinking them together. Mildly bitter hop taste with mild fruit undertones. Very clean and refreshing. It was exactly what I wanted.
So while Rodeo Clown is still the superior brew, it has a time and place. For all other times, I recommend Hopadillo as a lighter IPA alternative.