On Wednesday I found myself driving up the 15 in the early afternoon and decided to exit Adams Ave and, having heard that they recently expanded their hours, head over to Blind Lady Ale House for lunch.
The word of the new hours must not have spread yet because this usually packed and cheery hotspot was pretty dead. In fact, the only crowd there was a few small groups in the back room watching Spain beat Portugal on penalty kicks in order to advance to the finals in Euro Cup '12 on the big screen.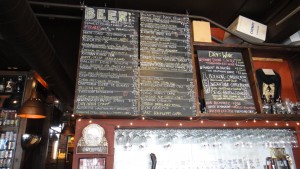 I was by myself and without a lot of time so I walked up to the counter and, after much contemplation, ordered a beer from the impressive draft list and the chorizo pizza. I sat at a table near the bar and cheered on España , a team I always cheer for since visiting that lovely county and catching a Barca match at Camp Nou. I was fortunate that I arrived in time to catch the end of the match and the penalty shootout.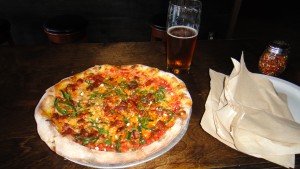 The pizza arrived and tasted fantastic. The "Iconic Hoppy Ale" from Sierra Nevada was a nice compliment. The pizza was prepared artisan style and included a Mexican cheese blend and serrano peppers. The spiciness had been cooked out of the peppers so I had to add it back with a liberal sprinkling of crushed red pepper.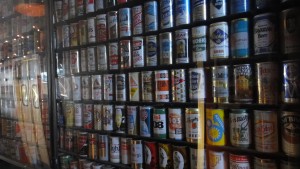 Blind Lady Ale House is known for keeping a great draft list and good food. The atmosphere is very laid back and come-as-you-are. The walls are lined with shelves full of beer cans that somehow managed to avoid the recycle bin for several decades only to find refuge in this Normal Heights bar. The big, south-facing windows out front provide plenty of light and give the room a sense of spaciousness. There are only a handful of bar stools at the main bar, so you'll probably have to find a table or counter.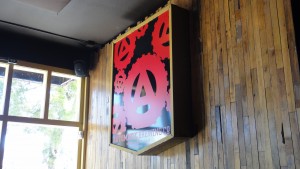 They have a small brewery in back called "Automatic Brewing". I walked around but found it closed.  I could see a fermenting tank through a window as well as an old bicycle hanging from the ceiling. I will have to return another day to learn more about the brewery operation. I didn't spot any of their beers on the draft list.
It was a beautiful day so I walked up the block to see what was new at Vine and Bine before heading out of Normal Heights.
Also, Clem's Bottle House and Tasting room are nearby across the 15 if you're looking to buy some bottles to go while in the area.
Here are a few more pictures I snapped.