Mother Earth Brewing Co. recently expanded to add a new tasting room, retail store, and home-brew supply store in the heart of Downtown Vista while the main production brewery is at their Thibodo Road location, which is temporarily closed. Today we were able to stop by the newer tasting room on Main St.
We arrived around 1pm on a Thursday and the scene was sparse and quiet.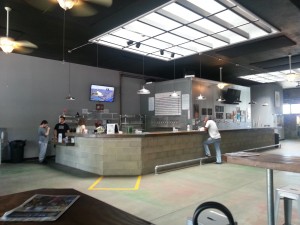 From the street, you will find the home-brew store on the corner and an open, inviting patio next door to the right. The patio opens, though a large door and two rolled-up overhead doors, into the tasting room. As you enter the spacious tasting room there is a gift/apparel section to your left and the tasting bar straight ahead to the left. Although there is no seating at the bar, although the right side of the space contains several high tables with stools.
The vibe is very relaxed and there are lots of framed album covers hanging on the walls around the bar. Soulful blues music fills the air at a nice volume, loud enough to permeate the atmosphere without being intrusive into conversational tones. The brick wall adjacent to the tables opposite the bar is adorned with well-crafted artwork representing the breweries beer.
I ordered the 6 beer taster flight for $5 at the bar and found an empty table near the front to go through them. The taster set is presented beautifully in a circular, wire tray. The taster glasses are somewhat tulip-shaped and appear much larger than they actually are. The display set also includes a sheet of paper which describes each of the beers in the set.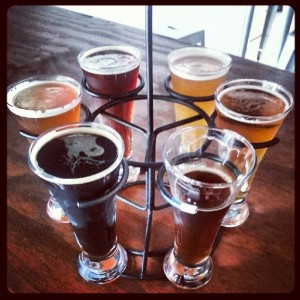 The taster flight was a joy to sample and I think hit the niche where I believe craft beer has the most potential, the crossover market. The crossover market, as defined by us, is the 93% of American beer drinkers who have only experienced the standard big 3 (2?) adjunct American lagers but are open to trying craft beer. The beers I was able to sample at Mother Earth Brew Co. were complex and exciting enough to be appreciated by a beer nerd like me without being too aggressive for a newcomer to the craft beer scene. Maybe we can just call them beers to be enjoyed by all.
Overall I found the scene at Mother Earth Brewing Co. to be just my style and I'm sure I would be a regular if I lived in that area. Great beer, inviting space, friendly staff, and good music. What's not to like? I'm sure we'll swing back by the next time we're in Vista.
While in the North County we also managed to hit two other great breweries so stay tuned. Here are a few more pictures from Mother Earth Brew Co. to keep you occupied while trying to guess where else we hit.