While in the North County area last week I was also able to slide by Iron Fist Brewing Co for my 1st visit. Iron Fist is in Vista, CA on the opposite, Southside of Beer Highway 78 from Mother Earth Brew Co.
Iron Fist has done a great job of making leaving their mark on the local scene during their 2 years of operation. They brew a complete line-up of beers ranging from Whiskey Barrel Aged Stouts to big IIPAs. Their 750ml bottles jump out at you on store shelves with the simple fist label adorning each bottle. I have enjoyed every beer from Iron Fist that I've tried so I was excited to finally be at the brewery.
Again, like most local breweries, Iron Fist is set up in a commercial business park taking up what appears to be two suites. There was plenty of parking out front. The overhead door was open on the right, but a sign pointed visitors to enter the tasting room through the pedestrian door to the left. I arrived around 3 pm and a food station was being set up dust outside the tasting room.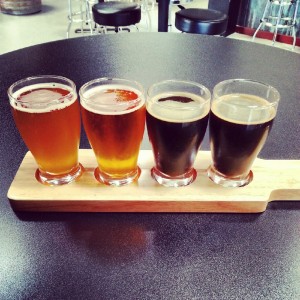 As you walk in the entry door you are met by the tasting bar immediately. There are several big chalkboards above the bar letting visitors know what's available and a few specials they had going on. I asked if there was a taster flight and was informed that for $5 they would give me a flight of any four beers I chose from the list. I chose two IPA style beers, "The Gauntlet" (IIPA) & "Uprising Trippel IPA" (Belgian Style IPA) and two dark beers, "Rubus Vigoratus" (Stout) & "Velvet Glove" (Double Stout). All four beers were excellent examples of their styles. The brew-master here is really developing interesting recipes and top-rate beer.
With my paddle loaded I found a high-top table and chair in the middle of the tasting room. The tasting room is pretty spacious and extends from the bar area out into the brewery area and into the next suite. Like Green Flash and Societe's tasting rooms, space feels like you are in the middle of the brewery. I was able to occupy myself pretty well by checking out the operation while sampling my flight.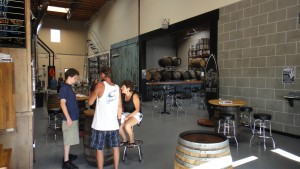 About halfway through my beer, I noticed a few children come in at taking a table by the bar. At that point, I began to notice the range of ages working in the brewery and the family resemblances. I don't know why it didn't hit me immediately when I walked in, but this is obviously a family operation run by at least four generations.
I went to the bar to buy a couple of bottles to go, a souvenir tulip glass, and close my tab. The lady who helped me, and I didn't get her name, confirmed that they are a family-run operation and that her son is the brewmaster. She said he started home-brewing with his dad at around 16 and just developed his talent from there. I asked her to let him know how much I enjoyed the beer and that his talent was evident in the beer.
Iron fist is a must-visit if you're in Vista and was the 2nd of 3 North County Breweries that I visited last week. Stay tuned for the next installment where we'll review Latitude 33 Brewing, also in Vista.