The third North County Brewery I was able to visit recently was Latitude 33 Brewing, also in Vista. Latitude 33 is not too far from Iron Fist and also sits in a business park.  Like a lot of tasting rooms, this one sits right in the middle of the brewery so that the brew-house, fermentors and bright tanks sit directly behind you as you face the bar. A large chalkboard above the tap handles lets you know what is available. The room has a very spacious feeling with little decorating or furniture.
I arrived to a small group of locals a little after 4 pm on a weekday, but the place really began to fill up with an after-work crowd as I was leaving just past 5.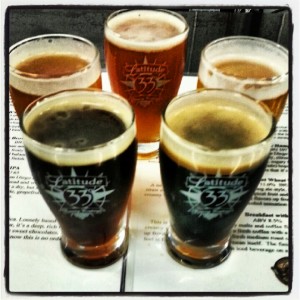 Tasters were available on a per-class basis and I ordered 5 different ones. They were delivered with two sheets of paper describing all of the brewery's beers. The glasses were then set on its description. I learned from the tasting room manager that the brewer previously worked at Alpine Brewing and the Alpine influence was absolutely evident in the big "Camel Corps Double hump IPA", which I thought was a great example of the West Coast style and a world-class beer. In fact, I found all 5 beer I tried to be excellent.
I learned that the brewery is owned by 6 investors. A friend of the brewery names the beers after historical events and figures all relating to Latitude 33. In fact, when I asked about the interesting beer names, like "Carolina honey Hips" and "Germans in the Desert", I was handed a few sheets of paper that gave the story behind each name. Very interesting reading.
North County and the Beer Highway 78 corridor is a great beer tourism destination and Latitude 33 sits with the best the area has. We hope this peek at the Vista brewery has been interesting or helped you plan your beercation. If so, please use the form below to let us know.