California Kebob & Beer Gardens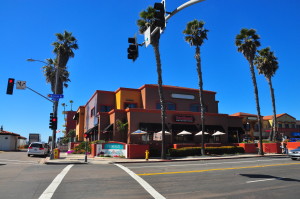 Last week I found myself in Pacific Beach at mid-day and finally had a chance to stop by and check out Amplified Ale Works.
Amplified Ale Works is a small brewery located inside of California Kebab & Beer Gardens, which is located on the 2nd floor of a little shopping plaza in Pacific Beach. There's a small parking lot on the beach here that serves a few hotels and "World Famous". You'll know the plaza from Mission Boulevard when you see Tony Roma's on the corner.  I have always kinda considered this lot the dividing line between Mission Beach and Pacific Beach when walking the boardwalk that connects the two communities. Parking can be tough around here, especially during the summer, and often is found in the streets to the east of Mission Blvd. On this day I found a spot about a block away, although there is a lot that serves the shopping center.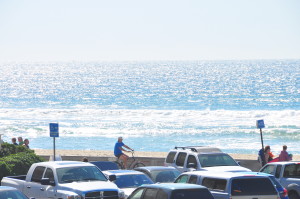 I took the elevator up from the centers parking lot. As soon as you enter you are greeted by a pair of fermentors straight ahead and a line of empty kegs on the right. As you enter to the main bar, which sits on your left, there are huge openings to large deck-style patio overlooking the beach on the right. The whole "bringing the outdoors inside" vibe. Very well executed too. The beer list was written out on a large chalkboard near the bar. There were only three house beers on, along with several fantastic guest beers. I started with the house Smokin' Kiwi IPA, which was very nice and crisp.
The food menu was, of course, centered on the kebabs and salads. For lunch, they had a section where you could choose a protein, a "shell", and a sauce. I had the lamb skewer wrapped in a  pita with the Habanero sauce. It was delicious, especially with the accompaniment of  Stone's Enjoy by 4-1-13. From the bartender, Dave, I learned that they have a health-conscious approach to their menu and source mostly organic products from local sources.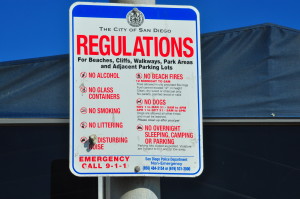 After I finished my lunch a took a few minutes to explore the space and walk out to the beach. The boardwalk was fairly dead this time of year despite being a beautiful day, even by San Diego standards.
Overall, my experience at California Kebab House / Amplified Ale Works was great. Not only will this be my new lunch spot when I'm in Pacific Beach, but this also shot to the top of the list for places to recommend tourists who are looking to combine San Diego's famous craft beer culture with San Diego's famous beach culture; the only other places that even compare are the beach area Pizza Ports. If you check this place out, I think you'll agree.
More pictures from my visit.