We pulled up to the old familiar spot to find that it has been totally revamped from all previous iterations. The brew system is gone. What used to be the back dining area has been walled off to create a separate suite for a Jersey Mike's (my new favorite Sub chain btw).  As you enter adjacent to the Macy's, the large bar area is on the right, and the main dining room is straight ahead. The room feels rich, warm, modern, and comfortable. The wall to the left, facing the parking lot, was blown out and fitted with overhead doors to create a great, open patio, which is where we chose to sit on this beautiful January day.
We were each given two menus, one with the food choices and the other for the adult beverages. The food menu was largely a great selection of salads and burgers, with a nice looking appetizer list and a handful of "House Signatures" that didn't fit any of the previous categories. Prices were very reasonable in the $10 – $15 range for most meals.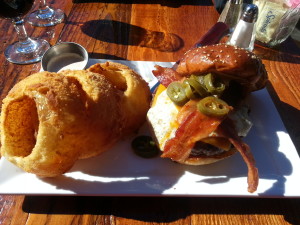 Pop
Quiz! What do the following four items have in common? Fried Egg, Bacon, Jalapeno, Avocado?
Answer: All four are almost guaranteed to make almost anything else even better. The guys at Eureka! embrace this fact by offering a burger featuring three of the four; the Jalapeno Egg Burger, which also includes bacon. It was every bit as good as I imagined when ordering and maybe even better. Next time I might go 4 for 4 and have them add the Avocado. The wife had the Fig Marmalade Burger (choosing the turkey burger) and really enjoyed it, insisting that I taste it. She was right. It was delicious.
The beer list was also impressive and well balanced among styles making it easy to find a beer to match any meal or mood. My girl had one of her favorite IPAs, Port's Mongo, and I had one of my favorites, Alesmith's Speedway Stout. What jumped out at us was the backside of the beverage menu, which featured an impressive selection of whiskeys, some familiar and others not so much.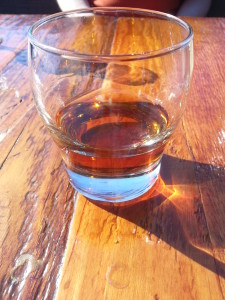 As we were finishing our meal, General Manager Andrew Segal stopped by to ask how everything was. We were able to chat with Andrew long enough to learn that this is Eureka!'s 7th location in SoCal with the 1st being in Redlands and that Andrew is more a whiskey snob than beer snob and is very knowledgeable about the dark spirits. We had noticed a few Balcones, who has been generating a lot of buzz recently, whiskeys on the menu and Andrew endorsed them, along with a few other boutique domestic distilleries, strongly. We wound up splitting a pour of the Balcones Brimstone for dessert and are excited to try more from this Waco, Texas distillery.
After our visit, we learned that our old friend, and extreme beer nerd, Barbara is now behind the bar at Eureka! If Barbara is there, you know the beer list will remain outstanding.
I highly recommend checking this place out if you are in the area.
Eureka!
4353 La Jolla Village Dr.
San Diego, CA 92122
858-210-3444