I was in Riverside on business last week and decided to check out one of the breweries that make up Temecula's burgeoning beer scene on the way back down to San Diego. I chose Black Market Brewing Co. for my stop having heard good things from San Diego Brew Co. Brew-Master and Temecula resident Jeff Drum.
Temecula has become pretty well known for its wine country but goes back a long way into the roots of California's craft beer culture. Way back in 1994 Vinnie Cilurzo, of owner and founder of Russian River Brewing in Santa Rosa (along with his lovely wife Natalie), opened Blind Pig Brewing Co. in Temecula, where he is credited with inventing the Double IPA.
On to my visit last week. Black Market Brewing is just a few blocks off the freeway at the Winchester Rd Exit of the 15 just South of the 15 / 215 split. I found it very easily with the aid of google maps and my Android phone. Like the typical San Diego brewery, it was in a business park with plenty of parking.
You enter into a cozy tasting room with a nice bar along the wall and merchandise boarding space. A big chalkboard list that is available, along with specials and growler/merchandise prices. I grabbed a spot on one of the cushioned barrels and looked through my options. As I normally do on a first visit I opted to do tasters of a few beers rather than blow my load on a single pint.
I tried 6 different tasters and my award show would go like this.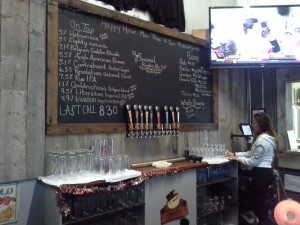 Best in Show – Quadrophenia Belgian Quad
Biggest Surprise – Black Market Hefeweizen
Most Interesting / Unique – Seasonal Pumpkin Ale served in a Maple / Sugar Rimed Glass
Honorable Mention – Liberation Imperial IPA (A really good IIPA)
If the bar area does not fit your style you can wander into a larger room in the brewery area that is outfitted with picnic tables and is lined with barrels. Really cool way to enjoy a beer with friends and watch the beer being made at the same time.
Black Market Brewery is definitely rest stop on our occasional journeys up and down the 15. We suggest you give it a try too.
For visitors from other parts of the country: Temecula is about an hour's drive up the 15 from Downtown San Diego and about half an hour North of Stone Brewing in Escondido.