So many new breweries have opened in the last month that we've been having a hard time keeping up. Last week however we managed to visit a great new brewery called Helm's Brewing Co.
Helm's Brewing Co is located just off the 15 in Kearny Mesa near both Societe Brewing and one of our favorite watering holes, O'Brien's and just had their Grand Opening the Saturday before Thanksgiving. Missing the Grand Opening crowd, we stopped by for a peak just as they opened at 3 on the Eve of the big celebration,
The brewery sits in the back of a business park and is very easy to find, partly because of the great signage out front. I found a small crowd when I arrived at the opening that grew during my stay. The beer list looked great, so I ordered a taster flight of 7 beers in order to get a feel for what they are doing. Every one of the beers I tried was good with a few really standing out; most notably the Beeruccino, a great little Coffee Stout, and the Red IPA.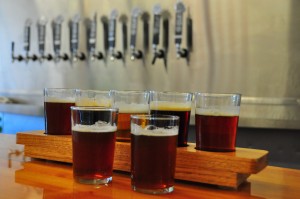 I soon found my self talking to the man running the tasting room that day Matt. I learned that Matt's father and 3 of his shipbuilding co-workers built and own the brewery together. Everything inside, save for the brewing system and cooler, was hand build the team and their families, including the beautiful bar. Helm's name comes from, not only the owner's involvement in shipbuilding but from the idea that they hope their visitors will "Take the Helm" and guide their own experience at the brewery. They have multiple TVs for the sports fans, the brewery system is very available for those interested, there's plenty of space to bring a group.
I was lucky to arrive on a "New Brew Friday" when they use a small pilot system to brew a fresh batch of beer. The small batches are put on a handle when they are ready and you should try them when you there because once these one-time-only beers are gone, they are gone… unless the response is so huge that they decide to put one in production. I was fortunate to try Novtober that had been brewed the week before and really liked it.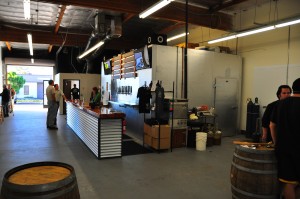 I talked to Brian, the master-brewer, briefly as he worked on that Friday's new brew. Very nice guy who, like so many, started his journey into the beer world as a home-brewer. From there he started working for breweries with his last stop being at Ballast Point.
Very glad we got to check out Helm's Brewing and we are looking forward to returning and watching them grow. I hope you will give them a stop the next time you're in the neighborhood. Please tell them that the SanDiegoBeerInsider sent you. In the meantime, we'll be checking out some more breweries for you.
Helm's Brewing Co
5640 Kearny Mesa Road
San Diego, CA 92111
Tasting Room Hours:
Thursday 3-8
Friday 3-9
Saturday 12-9
Sunday 12-7