Empire Brewing Company is located on Walton Street in downtown Syracuse about a mile and a half from the Carrier Dome and just around the block from the amazing MOST science museum.  This portion of downtown Syracuse has gone through a renaissance and revitalization and is a great little college town neighborhood.  Surrounded by a sea of brick buildings and quaint little shops and restaurants, the Empire Brewing Company fits right in with this college town "nice".
Cheers:
Jeers:

Lovely location, lovely building, great look.
Food and beer that did not disappoint.
Attentive service


Parking can be a problem, like so many downtown area breweries.
The volume level can be oppressive in certain areas of the bar.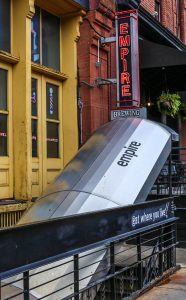 Living in the Syracuse area as a child, I understood the downtown area was not necessarily a place that you would want to be after dark.  Following the lead from many cities like Detroit and New York City, Syracuse is making amazing advancements in their night scene and culture and the entire downtown feels very safe at night. Walton Street is a quaint little shopping and eating district with countless cafés, delis, restaurants, and nice shops. Right in the middle of the block sits a silver awning covering stairs going down to the basement location of Empire Brewing Company.  Before you descend the stairs be sure to look at the lovely metal sculpture on the gate depicting a hops plant. At the base of the stairs is an outdoor area for those who choose to smoke and the entrance to the brewery is to the right.
Empire Brewing is a densely ornamented and visually interesting place with a lot to take in. In front of you as you enter is a long wood topped bar that seats 20 to 30 people. Just inside to the left, you will find the hostess who can help you find a table. There are rooms immediately on the left and farther back on the right with plenty of seating to handle a crowd of 150 or so. The walls are brick and stone and are adorned everywhere with decorations. There are guitars and accordions hanging in one section where a band would play; piñatas hang from the ceiling and paintings and signs paper the walls. Everywhere you look there's something new.  The brewing equipment is off the room to the back right.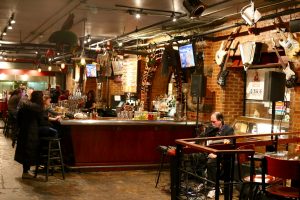 We were brought to a table in the small room on the left, just inside the door.  Being a college town, the crowd is a mix of ages but there were more 20-somethings than in a non-college area brewery.  Where this becomes important to some of our readers is that this is not a quiet place to get some beer.  It was loud; very loud.  There was a solo musician playing on the day we visited and this singer/guitar/harmonica player was playing and playing loud enough that we literally could not talk without yelling to each other.  It was oppressive enough that we asked to be reseated somewhere else.  (Old people syndrome)  We were moved to a room of tables in the back right hand corner of the bar and it was much quieter.  The staff was very accommodating about it, and apologetic, but to save yourself the trouble, if you are looking for a quiet time with friends and family, in and to the left is not the answer.
We looked over the menus and started by ordering flights.  There were fifteen different brews available on the day we visited and they are listed in the table below:
| | | | |
| --- | --- | --- | --- |
| Amber Ale | American Amber / Red | 5.5 ABV | |
| Skinny Atlas | Kolsch | 4.8 ABV | |
| Shandy | Radler | 4.2 ABV | |
| Black Magic Stout | American Stout | 4.8 ABV | |
| Black and Tan | Black and Tan | 5.1 ABV | |
| Beak & Skiff Raspberry Cider | Cider (Guest Tap) | 6.0 ABV | |
| White Aphro | Witbier | 6.0 ABV | |
| Empire IPA | American IPA | 7.2 ABV | 62 IBU |
| Cream Ale | Cream Ale | 6.0 ABV | 7 IBU |
| Local Grind | Scotch Ale / Wee Heavy | 7.2 ABV | |
| Showstopper Ale | Kolsch | 4.8 ABV | |
| Slo Mo | American IPA | 6.5 ABV | |
| Summer Sour | Berliner Weisse | 4.8 ABV | |
| Barleywine | American Barleywine | 10.5 ABV | |
| Hop Trail Ale | American Pale Ale | 5.5 ABV | 40 IBU |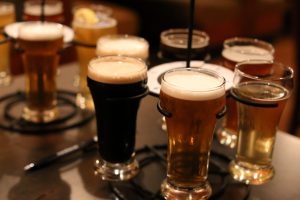 Empire keeps their beer pricing pretty simple which is quite refreshing considering you need a calculus background to figure out what your bill will be in some places.  Beer is sold by the 8 oz. glass for $3, 16 oz. is $5, and 22 oz. is $7.  The real bargain seems to be their flight; for $10 you get six samples that appear to be about 5 ounces.  You can also get a 60 oz. pitcher for $18 which is just shy of six 12 oz. glasses.  These prices seem to be quite fair for the area.
The beer itself was quite varied including a section of fully hopped IPAs, heavy stouts, even a barleywine and the stereotypical New York style cream ale.  The standout was, in our opinion, Local Grind.  This Scotch Ale infused with coffee was quite possibly the best coffee beer we have ever tried and had such a strong flavor of coffee, we had to ask how much caffeine we were taking in.  We rated Local Grind as a 4.5 on Untapped and on average across the board, we gave them an Untapped score of 3.75, a solid rating.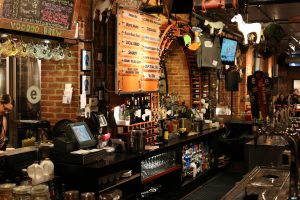 On a subsequent visit, we plan to try the Craft Beer Cocktails they offer at Empire (too much to add in after a 30 ounce flight).  There were four of these cocktails featured on a card on the table and frankly they sound fascinating.
Honey Basil Beer Julip – fresh basil and honey, mixed with bourbon and topped with our Amber Ale
Berry Skinny Brewjito – fresh berries, mint and agave nectar, mixed with a touch of lemon juice and bacardi rum, finished with our Skinny Atlas
Black Magic Paddy Whack – vodka, creme de cacao and creme de menthe, finished with our Black Magic Stout
Mighty Aphrodite – gin, st. germain, lemon juice, simple syrup and White Aphro served in a champagne flute garnished with raspberries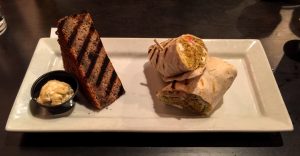 On the food menu, Empire has a large selection to choose from.   The menu includes, soups, salads, appetizers, sandwiches, burgers, and what they call large plates.  The pricing was about average for a microbrewery in central New York.  Appetizers will run you between $7 and $14, burgers run $10 to $14, and entrees will set you back between $13 and $22.  There were 28 full meal options and these cover styles including typical pub fair, seafood, steaks, pasta, Mexican, stews, and their signature jambalaya.  There is something here for everybody.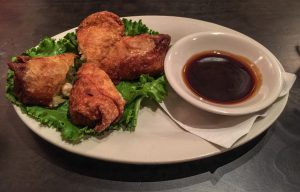 We chose a couple of dishes as our sample of the cuisine.  We started with the Sriracha Shrimp Egg Rolls and followed this with the Falafel Wraps with Blue Corn Bread (with maple butter) on the side.  While we enjoyed all of the food, we would say that the egg rolls were a bit greasy (but not far from our local Chinese joint on that front) and we were very surprised that the wrap was a cold dish; we expected this to be hot.  The falafel was quite tasty and the blue corn bread was a very nice unique taste.  One thing that we noticed was that there were several tables of people where not a single person had a beer, people visiting just for the atmosphere and the food.
We felt that the service was quite good.  When we asked for a table change, we were immediately accommodated and they were very apologetic.  All of our needs were taken care of and our server, Amanda, was very knowledgeable about the beer selections and the menu.

It's a Wrap
We left Empire Brewing Company pleased.  The beer was pretty darn good and there was plenty of it in the flight.  We felt that the food was good as well, not the best we have ever had, but good.  The service was very good and we loved the atmosphere (aside from the sound level at the start).  We enjoyed ourselves and the next time we find ourselves in downtown Syracuse, we would likely visit again.
| | |
| --- | --- |
| Overall Rating | |
| Quality and Selection of Beer | |
| Quality and Selection of Food | |
| Family Friendliness (For those who care) | |

The Details
Address120 Walton St
Syracuse, NY 13202
(315) 475-2337
HoursMon   11:30AM–10PM
Tue    11:30AM–10PM
Wed   11:30AM–10PM
Thu    11:30AM–10PM
Fri     11:30AM–11PM
Sat     11:30AM–11PM
Sun    10AM–9PM