Weyerbacher is a hidden gem in the micro brewing industry.  Hidden away in a somewhat residential neighborhood in Easton, Pennsylvania, Weyerbacher should be considered the king of the Belgian style beers and with labels like Insanity, Blasphemy, and Blithering Idiot, you know there is some fun to be had.  Additionally, Weyerbacher does more than serve great beer; they also serve the community.  Along with frequent fund raisers, they give to charity every day with 100% of your tips going to the Last Chance Animal Rescue.
Cheers:
Jeers:

24 varieties of amazing beer on tap
Friendly staff (for the most part)
Lots of merchandise to fill your car and empty your pockets


Some of the brews get a bit price
Easton lies 55 miles north of Philly and is the home to Crayola, the Dixie Cup Corporation, and Majestic Athletic who makes all the uniforms for Major League Baseball (Ironically Easton baseball bats used in MLB are from Van Nuys, CA).  Easton is a town rich with history and the birth place of many famous Americans.  Randall Monroe, author of the book What If? (amazing read) and the XKCD comics, actors Jack Colman (Noah on Heroes) and Daniel Day Kim (Jin on Lost), and of course the "Easton Assassin", heavy weight boxing champion, Larry Homes, to name a few.  And frankly what discussion of Easton, PA could be complete without mentioning Baconfest which happens every November…  Easton is an interesting town and one worth a visit, even if it is just to stop in at Weyerbacher.
Weyerbacher (why•er•bock•er) was the original spelling of the Weirback family name when they immigrated from Germany in the 1800's.  The brewery was founded in 1995 by Dan and Sue Weirback.  Dan had been home-brewing for years and with Sue's help and encouragement, they started the commercial business.  Their first batch was a Raspberry Imperial Stout, followed soon after by Blithering Idiot and Merry Monks.  This seemed to set the path for their future success.  The business grew quickly and by 2005 it had moved into a new facility with a 25 barrel system formally owned by Victory Brewing Company.  The constant expansion and growth has moved them up to the 40 barrel system they use today and their distribution network now covers 19 states.  Don't think they are stopping there.  On our visit there was an excavator working to build more parking for further growth.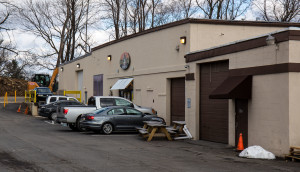 The brewery and the tasting room are in the same 20,000 square foot facility.  As you enter through the double doors, the tasting bar is directly in front of you.  Past the bar are racks of barrels with future batches conditioning, pallets of kegs ready to sell, and mountains of cases ready for sale at the Tap-house or to be shipped to distributors. To your right is the merchandise; shirts, hats, baby items, glass wear, soaps, coffee beans, and a great line of dog collars and leashes all are adorned with the Weyerbacher brand.  Prices are a mixed bag with some being very reasonable and some (the dog products) being a bit high for our budget.  The restrooms are also along this right hand wall and are very well maintained.
The bar itself is limited on seating with just over a dozen stools.  There may be more seating available on busy days but on the day we visited, they were having the annual company meeting so things were a bit rearranged.  The bar top is a poured and polished concrete slab which had a very appealing industrial look to  it.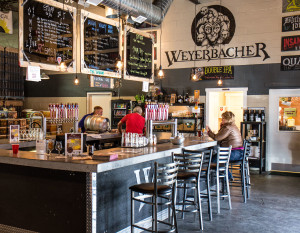 We were greeted by a very friendly staff who helped us wade through the extensive beer menu.  We had sampled a few Weyerbacher brews from our local grocery store before, so we knew the quality to expect, but were frankly overwhelmed by the 24 choices on tap.  The weekend before had been a special Super Barrel Weekend so they had a variety of these special cask conditioned brews still on tap.  They frequently hold special events however so keep an eye on their website for the calendar of events.  This Saturday (Feb 20, 2016), for example, is retro night when a selection of their retired beers will be brought back for a limited engagement.
The list of beers on tap on our visit are listed in the table below.
Jesters Choice III
Märzen
6.2% ABV
N/A
Winter Ale
English Brown Ale
5.6% ABV
15 IBU
Tarte Nouveau
Sour Ale
3.9% ABV
7 IBU
Merry Monks
Belgian Tripel
9.3% ABV
15 IBU
Althea
Belgian Dubbel
7.7% ABV
N/A
Riserva
American Wild Ale
10.0% ABV
N/A
Tango
Belgian Strong Dark Ale
10.6% ABV
35 IBU
20th Anniversary
Belgian Strong Dark Ale
11.0% ABV
30 IBU
Blithering Idiot
English Barleywine
11.1% ABV
34 IBU
Insanity
English Barleywine
11.1% ABV
34 IBU
Quad
Belgian Quad
11.9% ABV
39 IBU
Imperial Pumpkin
Pumpkin / Yam Beer
8.0% ABV
21 IBU
Tiny
American Imperial Stout
11.8% ABV
N/A
Last Chance IPA
American IPA
5.9% ABV
60 IBU
Double IPA #2
Imperial Double IPA
9.0% ABV
N/A
Double Simcoe
Imperial Double IPA
9.0% ABV
90 IBU
First Down
(Super Barrel Weekend) English
Barleywine
11.1% ABV
34 IBU
Big Woody
(Super Barrel Weekend) English
Barleywine
11.1% ABV
34 IBU
Extra Point
(Super Barrel Weekend) English
Barleywine
11.1% ABV
34 IBU
Blindside
(Super Barrel Weekend) English
Barleywine
11.1% ABV
34 IBU
Flag on the Play
(Super Barrel Weekend) Russian
Imperial Stout
8.0% ABV
19 IBU
Halftime Show
(Super Barrel Weekend) Imperial
Stout
11.3% ABV
N/A
QB Sneak
(Super Barrel Weekend) English
Barleywine
11.1% ABV
34 IBU
The Red Zone
(Super Barrel Weekend) English
Barleywine
11.1% ABV
34 IBU
Disclaimer – We love the Belgian style.  We love strong brews in the 10% ABV and above range.  We are not fans of IPAs.  We do not and have never gotten a kickback or even a free drink from any brewery we visit so this review is unbiased other than our predilection to the Weyerbacher style.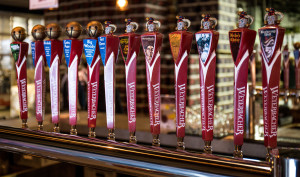 WE LOVE THEIR BEER!  There is no way to be more subtle about it.  Until this visit to Weyerbacher, when someone would ask what our favorite brewery was for the beer, the answer would have been Brewery Ommegang in Cooperstown, NY.  That is no longer the answer; we have a new champion.  Of the 11 different brews sampled so far, the average score in Untapped is 4.25.  This is a very high score and three of their beers have made their way onto our top 5 lists.
The signature styles of Weyerbacher are the Belgian double, Trippel, and quad beers and their barleywines.  All of these are excellent examples with rich complex flavors and a level of refinement that puts them in with the best of the best.  Their barleywines like Blithering Idiot and Insanity are the best we have ever had. Their Belgian ales like Quad and Athena are truly fantastic and well worth a growler or two for home.  Frankly, all of the beers we sampled were amazing.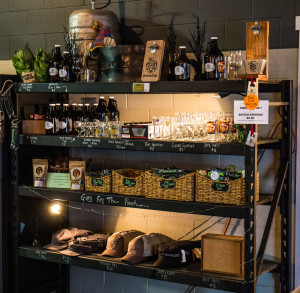 There are many ways to get a beer in the tap room.  The menu has an abundance of options for each beer including by the 4oz/12oz/16oz glass, 32oz/64oz growlers, 1/6 or 1/2 kegs, and even cases of bottles (mix and match) to go.  The pricing is quite variable so to sum up, the table below gives you an idea on pricing.
Size
Low Price
High Price
4 ounce sample
Winter Ale @ $1.50
Reserva @ $4.00
12 ounce glass
Last Chance IPA @ $3.50
Reserva @ $10.00
16 ounce glass (only some
offered at this size)
Tarte Nouveau @ $5.00
Jesters Choice III @ $6.50
32 ounce growler
$7.50
$17.00
64 ounce growler
$12.50
$28.50
1/6 Keg
$73.00
$150.00
1/2 Keg
$157.00
$220.00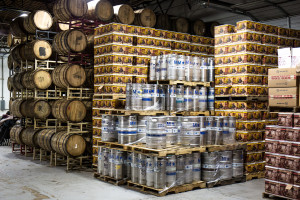 While we were there, a customer came in and had two growlers filled.  One of these was filled with a special cask conditioned ale and cost $50 for the 64 ounces.  If you need to buy a new growler while you are there, they have them with the Weyerbacher logo for $5.00 each for the 32 or the 64 ounce size.
A recent addition to the menu is a sampling of snacks offered in partnership with the Easton Salsa Company and Buy the Farm. Salsa, hummus, whipped cream cheese, and chips are all available for $5-$6 a plate.  Watch their calendar of events for other food related events like a Girl Scout Pairing in March, beer dinners, tap attacks in local restaurants, and lots of live entertainment nights and events.
One other thing to note; Weyerbacher is dedicated to several great charities.  They frequently have special events to help causes like ALS among others.  Beyond that they also donate every penny earned in tips to the Last Chance Animal Rescue as well as a portion of the proceeds from the Last Chance IPA.

It's a Wrap
It's hard to come up with anything negative to say about Weyerbacher.  Only two things can be counted as negatives. First, that some of their beers tend to get a bit expensive, and second that on a subsequent stop in the brewery, the bartender was more interested in her laptop than being outgoing and friendly.  Such is life, you get what you pay for with the beer and sometimes service is better than others.  Beyond that, all we can do is rave about Weyerbacher.  This is one of a very few breweries that has us returning again and again.  They truly have the most impressive lineup we have seen of Belgian beers and Barleywine.
| | |
| --- | --- |
| Overall Rating | |
| Quality and Selection of Beer | |
| Quality and Selection of Food | |
| Family Friendliness (For those who care) | |

The Details
Address905 Line St
Easton, PA 18042
(610) 559-5561
HoursMonday    12–7PM
Tuesday    12–7PM
Wednesday    12–7PM
Thursday    12–7PM
Friday    12–8PM
Saturday    12–8PM
Sunday    12–5PM