Florida is the land of spring break and beaches, tacky beachside decor and exclusive resorts.  Right in the middle of all of this, you will find the renowned Cigar City Brewing Company.  As the lists of the best breweries and best beers are compiled from sources like BeerAdvocate or USA Today, Cigar City often lands in the top five for their individual brews and for the brewery overall.  Unfortunately after being spoiled by some of the amazing breweries in the North East like Ommegang, Ithaca, and Weyerbacher, Cigar City falls short.
Cheers:
Jeers:

There is a tremendous selection of beers on tap.
When a flight is bought, the system of filling out a card is very handy.

Parking is a significant issue with the main lot overflowing even in the afternoon and the overflow lot a good hike away.
The decor and cleanliness of the tap room leave a bit to be desired.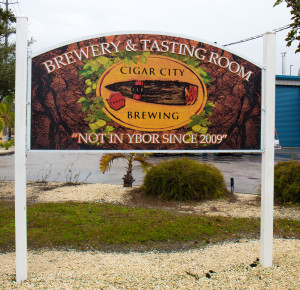 Cigar City Brewing wins a lot of awards: "The 4th Best Brewery in the World (ratebeer.com); "Maduro Brown is the 15th best beer in America" (Complex magazine).  Two of Cigar City's beers land on the Beer Advocate's top 250 list.  Based on this popularity with the critics and judges, we had our hopes pretty high, but we didn't feel like the hype was justified.
The Cigar City Brewing Company is located on West Spruce Street in Tampa, just south of the Tampa airport.  We had no trouble navigating here and finding it. The only hard part was finding a parking spot.  It was about 1:00 p.m. on a Saturday and we did think this would be a hugely busy time but it was in the early stages of prime season for tourism.  We circled the parking lot and all the spots were full, all the way to the back and around the building.  The only option was to park across and down the street in the overflow lot.  The unfortunate part was it was raining.  It also seemed like a struggle for folks carrying growlers and cases of beer from the tap room to the overflow.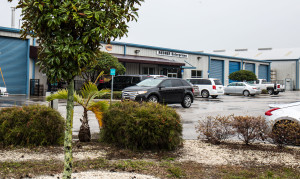 Cigar City does not serve food; they are a taproom only, but on our visit there was a truck outside from CJ Traveling Pizzeria. Food could be eaten at the picnic tables outside or you could bring it in.   There were not too many people taking advantage of this service.
Inside, the decor has the cheap and plastic feel of a beachside bar even through Cigar City is a good distance from the nearest water.   The interior is separated into 3 rooms; the first two have bars and the last is just seating.  The bar in the first room seats around 10 and there are tables for another 12 guests.   Between this room and the larger room was an area where you could find logo merchandise like shirts and glassware and even logo skate board decks.  The second room is larger with room for 12 to sit at the bar and an area to order drinks, as well as seating for another 30 people.  This room also has a large shuffleboard table and a cigar rolling stand that was not running at the time.  The last room in the back has low tables only and seats 28.  All told, there is seating for about 92 people.  The problem is that there were probably around 120 who wanted to sit.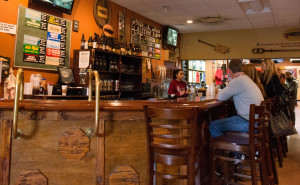 After a 3-4 minute wait we were able to get to the bar to place an order.  The beer list is on a large TV over the bar but it was a bit hard to read with white or colored text on a black background (LCD Text Readability 101 fail).  Once in the front of the line, we grabbed flight order cards and filled them out.  We liked this system; you didn't have to try to be heard over the ambient sound and once your flight was filled, you had a handy reference as to which brew was which.  The full list of available beers is in the table below.
| | | | |
| --- | --- | --- | --- |
| Nitro: Basic Brengle | English Bitter | 3.5% ABV | |
| Nitro: Puppy's Breath | American Porter | 6.5% ABV | 25 IBU |
| Tocobaga | American Amber/Red | 7.2% ABV | 75 IBU |
| Strawberry Shortcake | Helles Lager | 5.0% ABV | |
| 110K + OT 8th Batch | Imperial Double IPA | 10.7% ABV | 78 IBU |
| Winter Warmer | Winter Warmer | 12.0% ABV | 47 IBU |
| Vanilla Maduro | English Brown Ale | 5.5% ABV | 25 IBU |
| CCB/De Molen Collab | Imperial Double Stout | 8.5% ABV | |
| Cigar City Hard Cider | Cider | 5.5% ABV | |
| Jai Alai | American IPA | 7.5% ABV | 70 IBU |
| Florida Cracker | Witbier | 5.5% ABV | |
| Guayabera | American Pale Ale | 4.5% ABV | 18 IBU |
| Invasion | American Pale Ale | 5.0% ABV | 36 IBU |
| Maduro | English Brown Ale | 5.5% ABV | 25 IBU |
| Cold Brew Coffee IPA | American IPA | 7.5% ABV | |
| Sugar Plum | English Brown Ale | 7.0% ABV | 25 IBU |
| Big Sound | Scotch Ale / Wee Heavy | 9.9% ABV | 40 IBU |
| Cask: Apple Cinnamon IPA | American IPA | 7.5% ABV | 65 IBU |
| Slow as Molasses | Old Ale | 10.6% ABV | |
| Jose Marti | American Porter | 8.0% ABV | 65 IBU |
| Warehouse | Saison | 7.6% ABV | |
| Tony Jannus | American Pale Ale | 5.5% ABV | |
| CCB/Amager Top Roll | Imperial Double Porter | 8.2% ABV | |
| Blueberry Muffin | English Brown Ale | 5.5% ABV | 25 IBU |
| Rock Brothers Brewing High Road | American Pale Ale | 5.0% ABV | |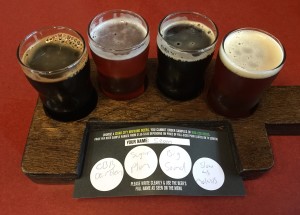 The selection of beer was certainly impressive, with 25 beers on tap, the largest selection we have seen to date at a brewery.  In general the beers we tasted were well crafted and pretty good.  We found quite a bit of variety in flavor from style to style and gave an average of 3.75 out of 5 on Untapped.  The flights have variable pricing based on what different beers you taste. For example, the two flights with four 4oz samples we tried rang up to $14.00.  By the glass the prices ran between $4 and $7 with the Basic Brengle being the least expensive and the Winter Warmer being the most.
Overall the service at the bar was good.  The three bartenders at the larger bar were all having a good time and were friendly.  Our flights were poured quickly and the money transaction was smooth.   We were able to find a table in the back room to sit and enjoy our samples but the table was not very clean and made us leery of setting our camera down on it.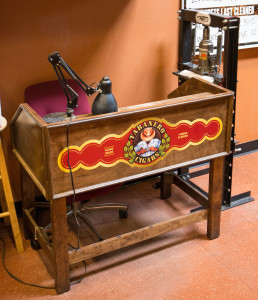 Tours of the brewery are available on the hour most days except Monday and Tuesday.   The 30-45 minute tour does cost $8 per person, but you get to sample some of the brews on the way and you do get a souvenir glass to take home with you.  You can reserve your tour spot on their website.  We did not take the tour so we cannot attest to its quality.
The patrons were a mix of locals and tourists but the vast majority appeared to be in Tampa on vacation.  Lots of selfies and Snapchats were flying about including one from a girl behind us who snapchatted herself saying "best beer ever" in a voice that sounded a lot like that character Jimmy Fallon played on Saturday Night Live….  "Ewww…"
It's a Wrap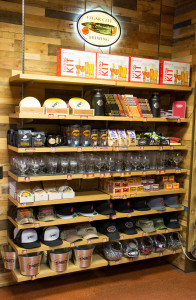 Cigar City is a tough one to pin down on the ratings for this review.  The beer selection was huge, 25 different brews is certainly the most we have ever seen at a microbrewery, but then the tables were not clean.  The service was good and the way you order and receive your flights is great, but you had to walk 150 yards in the rain to get there.  The beer was good, but not great.  In all, when we mentally tally it all up, we end up with a middle of the road rating of 3.0, but with a much higher rating for the beer at 4.5 driven by large selection as much as anything else.  We enjoyed our experience at Cigar City Brewing, but the next time we are in Tampa it will not be on our list of spots to repeat.
| | |
| --- | --- |
| Overall Rating | |
| Quality and Selection of Beer | |
| Quality and Selection of Food | N/A |
| Family Friendliness (For those who care) | |

The Details
Address

3924 W Spruce St
Tampa, FL 33607
(813) 348-6363
Cigarcitybrewing.com

Hours

Monday      11AM–11PM
Tuesday      11AM–11PM
Wednesday  11AM–11PM
Thursday     11AM–11PM
Friday         11AM–1AM
Saturday     11AM–1AM
Sunday       11AM–11PM