The Genesee Brewing Company conjures images in people's minds of Genny and Genny Light, Twelve Horse Ale, and of course the infamous "Genny Screamer".  Frankly, most of these remind us of the days when we had no money and just wanted to buy some cheap beer.  That is, however, not what Genesee is about today.  Genesee Brewing Company of Rochester, New York, is now the home to a true microbrewery and it distributes some high quality brews from their Pilot Batch line.  Add in a decent restaurant and a nice view of the High Falls, and this is a great place to visit.
Cheers:
Jeers:

A nice selection of microbrews (additionally, the Pilot Batch brews are better from their tap than from the bottle)
Great location with a nice view and a tremendous gift shop


The ambient volume level in the restaurant on a Saturday night is oppressive.
There is no tour available of the big brewing operation, only the microbrew area.


In the heart of Rochester, on the northern bank of the Genesee River is the Genesee Brewing Company.  Founded in 1878, Genesee is one of the longest continuously operated breweries in the US.  And for these nearly 140 years, they have made some truly mediocre beer.  While some swear by the Genny Screamer (Genesee Cream Ale), many folks wouldn't be caught dead with one in hand.  In 2009, Genesee was acquired by North American Breweries and they were added to their holdings which includes Labatt's and Seagram's Escapes.  Things were going well for Genesee and they were investing and growing when again they were bought out by Florida Ice & Farm Co. (FIFCO) in 2012.  At this time, the Genesee Brew House was born.
The Genesee Brew House is a 9,200 square foot building on the Genesee campus.  It houses a gift shop, interactive museum, and the pilot brewery and the tasting bar.  Above this area, on the second floor, you will find a very active restaurant and bar.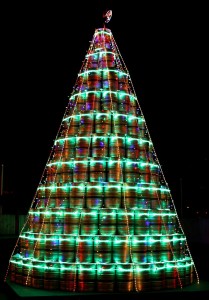 Parking is ample in the free lot.  On two separate trips we found parking right up front.  The Brew House is a quaint little brick building beside the huge industrial brewing operation.  The Pont De Rennes foot bridge is to the left of the building and offers a great view of the 96 foot drop of High Falls which are lit at night.  In the winter months you can treat yourself to a view of a 26 foot high Christmas tree made from 428 empty kegs and lit with green lights.
As you enter the Brew House building, you will pass the stairs to the restaurant on the left.  If you plan to eat, you may want to get your name on the list; weekends and busy evenings can produce up to a 2 hour wait.  In front of you is the interactive museum and gift shop.  The museum has some very interesting displays of old brewing equipment, antique bottles and cans and a group of interactive displays that are a fun way to pass some time while waiting for a table.  There is a Genesee Brewing quiz you can take that is surprisingly difficult.  Sadly, our score of 5 out of 10 is the number to beat.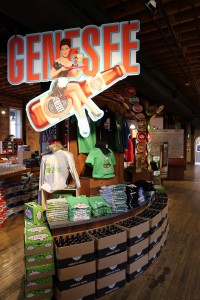 In the gift shop you can buy all kinds of stuff from shirts to glass to cases of beer.  In general we found the merchandise high quality and the selection to be tremendous but all a bit higher in price than we wanted to pay.  Also of note, the prices of beer by the 4/6 pack or case is just about exactly what you would pay at the local grocery store.
In the back of the Brew House, behind the museum, you will find the tasting bar and the 20 barrel Pilot Brewery.  Tours of the brewery are available Sunday-Thursday, noon to 5:00 pm, and Friday and Saturday, noon to 7:00 pm.  There are no tours given of the large industrial brewery next door.  The tours are given every hour on the hour.  The tour starts out showing the basic ingredients of the brewing process and you actually get to see and smell different hops and discuss what goes into different type of beers.  From there, you move into the brewing area of the Pilot Brewery, where you are walked through the process and have some time for some Q&A with the guide.  The tour was good and informative but if you have seen brewing operations on many tours before, it will mostly be review.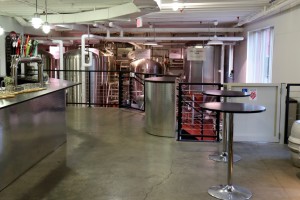 The Pilot Brewery is the playground for brew master Dean Jones. Dean has 23 years of brewing experience and has been the brew master of this pilot system since its creation in 2012.  In a nutshell, what happens in this microbrewery offshoot of Genesee is this; Dean is given free range to play and create anything he wants.  His first brew was the Scotch Ale.  The brews he creates are only sold in the tasting bar attached to the brewing operation and in the restaurant upstairs.  If a particular brew is very popular, it is then brought to the big brewery and they make a "Pilot Batch" brew out of it, bottle it, and distribute it.  So far, Dean has created twelve or more recipes and only three; Scotch Ale, Salted Carmel Chocolate Porter, and the Black IPA have gone into production.  The list of beers on tap in the tasting bar and restaurant is in the table below:
| | | | |
| --- | --- | --- | --- |
| Genesee Beer | North American Adjunct Lager | 4.5% ABV | 8 IBU |
| Genesee Cream Ale | Cream Ale | 5.2% ABV | 9 IBU |
| Bock | Bock | 5.2% ABV | |
| 12 Horse Ale | Blond Ale | 5.1% ABV | 10 IBU |
| Scotch Ale | Scotch Ale / Wee Heavy | 7.5% ABV | 20 IBU |
| Brewhouse Munich Dunkel | Dunkel Lager | 5.0% ABV | 20 IBU |
| Brewhouse Sticke Alt | Altbier | 6.7% ABV | 45 IBU |
| Salted Carmel Chocolate Porter | Porter | 6.5% ABV | 29 IBU |
| Imperial Black IPA | Imperial Double Black IPA | 8.0% ABV | 100 IBU |
| Iron Smoke Black IPA | Imperial Double Black IPA | 8.0% ABV | 80 IBU |
The Tasting Bar gives you several options to taste the beers from the Pilot Brewery as well as the commercial brewery next door.  One great option is to get a flight. For only $2.00, you can taste four samples from the list and a portion of the proceeds goes to local charities.  It's hard to beat that deal; however, there is a limit of one per person.  You can also get beers by the pint and growler.  The pricing is in line with most tasting rooms we try but if you want the Salted Caramel Chocolate Porter, there is a hefty up charge.  Of course, if you've tried the Porter, you know it's worth every penny.  The other one not to miss is the Scotch Ale.  The on tap version of the Scotch is very good and could stand up to many top names like Founders, Oscar Blues, and Innis & Gunn.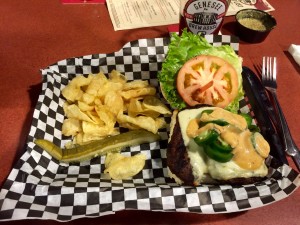 After our hour plus wait for a table, our buzzer went off and we proceeded upstairs.  The restaurant is large, seating for around 80-100 people at the tables is in addition to around 50 at the bar.  This is one large room and there is nothing to muffle the sound so when it's busy, it's loud.  We used our handy decibel meter on our phone to check it and it rung in at 84 dB.  Luckily, unless you are going to be there for 8 hours at that rate, you will not need hearing protection according to OSHA, but it did make conversation difficult at times.
The bar area was packed and was…there is no other way to say this… a meat market.  The bar area was overrun with 20-somethings looking for a date and while this was entertaining to watch in some cases, in most it was an experience you just don't find in the microbrewery world.  This was the most glaring case of crossover between the commercial cheap beer mentality and the microbrew mentality.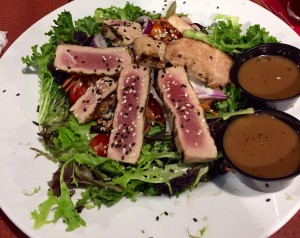 Service was good in the restaurant; menus were on the table when we were seated and orders were taking quickly. The service of the food was equally quick with our appetizers being delivered 3 minutes after the order was taken.  The choice of foods comes from a two page menu of pub type foods.  We tried Bavarian Pretzels with beer mustard and beer cheese dipping sauces for starters and for entrees, the Chipotle Burger and the Grilled Ahi Tuna.  All of these dishes were decent but nothing jumped out with a major wow.  The tuna can't compare to Market Street Brewing in Corning, the burger is not in the league with any from Ithaca Beer Company and the pretzels are… well, not as good as Applebee's.  In general, we left full and having had a good time, but not clamoring for a return visit. Frankly our 40-something ears probably couldn't take it and on the days they have live bands, it is probably very oppressive.
It's a Wrap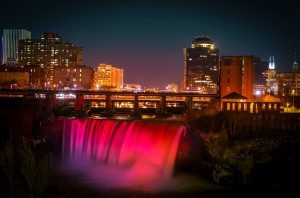 In general we enjoyed our experience at the Genesee Brewing Company and the Pilot Brewery.  We learned a lot about their history and even a little about hops along the way and enjoyed the beers we tried for the first time and the ones we tried again.  While the restaurant had its faults (long lines, oppressive noise level, raging hormonal bar scene) we did have good service and decent food.  Overall, we give Genesee a fairly high rating because at its core, this is a place that should be experienced.  They have done an excellent job reimagining what Genesee beer is and if they stay on the trajectory they are on now, truly great things are coming…  This is not your father's Genesee Brewing Company.
| | |
| --- | --- |
| Overall Rating | |
| Quality and Selection of Beer | |
| Quality and Selection of Food | |
| Family Friendliness (For those who care) | |

The Details
Address

25 Cataract St
Rochester, NY 14605
(585) 263-9200
www.geneseebeer.com/brewhouse

Hours

Monday    11AM–9PM
Tuesday    11AM–9PM
Wednesday    11AM–9PM
Thursday    11AM–11PM
Friday    11AM–11PM
Saturday    11AM–11PM
Sunday    12–9PM