Amherst, Massachusetts is the home to three universities; UMASS Amherst, Amherst College, and Hampshire College and Holyoke is just around the corner.  The town is nearly overrun with students and their visiting families and one popular place for all of these folks to visit is High Horse Brewing.  This microbrewery is located on Pleasant Street in the downtown section of this quaint little college town.  Don't let the small exterior presence of this brew pub fool you.  Once inside, you will find this is quite a large pub. Pull up to a table or the bar and you will be able to sample their beers made on premises and their pub food all while soaking in the New England atmosphere.
Cheers:
Jeers:

Friendly bar staff
Visually interesting atmosphere with lots of things to look at and explore.


Parking is tough to get nearby.
Pricing is on par for the area but high compared to most breweries reviewed here.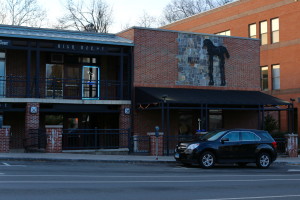 Pleasant Street in Amherst is lovely and has that feel of New England to it.  Along its length, you will find bed and breakfasts, nice shops, restaurants, and of course, a nice little microbrewery called High Horse Brewing and Wicked Fancy Dining (this last part comes from their web site).  Only in New England would you drop Wicked in your name and get away with it.  The external facade of the building is all brick, glass, and stone with an eight foot tall stylized metal horse for decoration.  The entrance is a bit hidden away and not under the awning where you might expect it.  Once you get inside, there is a near labyrinth of rooms for you to sit and enjoy the beer and of course the "wicked fancy" pub food.
The main room houses the bar.  This long U-shaped beauty can seat around 25 and there are high tables surrounding it for another 25 or so.  Off to the left of the entrance are several rooms with tables that will seat another 100-120 guests.  The size of this place is quite deceptive from the outside.  We also heard about a billiard room upstairs but did not venture up to see it.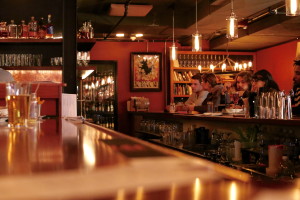 The look of this bar was quite appealing.  The lighting, while a bit dim, comes from what appear to be old time lighting fixtures above.  A row of candles lights the area around the taps.  The bar is made from a dark reddish brown wood and is complemented by deep red paint on the walls.  You can sit and enjoy a book from a large book shelf at the end of the bar or strike up conversation with those around you.  Everywhere you look there is something that catches your eye.  From the horse themed art on the walls to the Bernie Sanders vs. Colonel Sanders quote competition chalked on a large beam; there is no shortage of visuals here.
The beers on tap covered a wide range of styles.  The table below is a listing of beers that were on tap during our visit.
| | | | |
| --- | --- | --- | --- |
| Kölner Dom | Kölsch | Unknown | |
| Mr. White | Witbier | 5.0% ABV | |
| Minx Saison | Saison / Farmhouse Ale | 6.0% ABV | |
| Ordinary | English Bitter | 6.0% ABV | 70 IBU |
| Velvet Nitro | American Red Ale | 5.25% ABV | |
| Satisfaction IPA | American IPA | 7.2% ABV | 90 IBU |
| Libertine Porter | Porter | 5.0% ABV | |
| The Business | American Imperial Double Stout | 9.25% ABV | |
| Lady K | American Pale Ale | 5.0% ABV | |
| High Hops | Cider | 6.0% ABV | |
| Barrel Aged Business | Imperial Double Stout | 11.0% ABV | |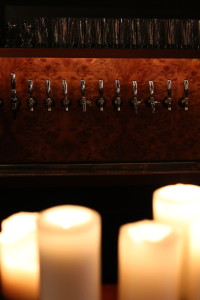 With eleven different beers on tap, there was quite a selection.  If for some reason none of these suit your taste, there is a cooler of bottled beers ranging from the mild to the extreme in the back as well.  By the pint, pricing for the High Horse beers ranged from $5 for the Kölner Dom to $10 for the Barrel Aged  Business and averaged out to about $6.25.  Flights are also available, four 5oz samples for $9.00.  The flights are served on a lovely wooden and wrought iron carrier but unfortunately, by its design, it was easy to be confused as to which beer was which when their colors matched too closely.
In general we found the High Horse beer to be quite good.  The average of our Untapped ratings was 3.75 with the highlight being The Business.  This was an excellent Coffee Stout and the next time we visit, we will be sure to try the barrel aged version of this brew.  (Side note: Every batch of the Barrel Aged Business seems to end up with a different ABV so 11% on this trip may be 9.25% on the next.)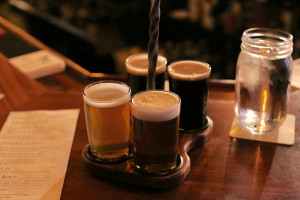 High Horse has an extensive menu of pub style foods to choose from.  From appetizers like their heaping plate of nachos or their poutine, to cheese plates and salads, to burgers and fish and chips, all of their food gets high marks.  The only cautionary tale is that this is a New England college town and the pricing reflects that.  Most appetizers will cost north of $8 and Burgers ring up for $16 on average.  This pricing is on par for the area but is higher than average outside of a New England college town.
The service was friendly and helpful.  The bartender was helpful with our selections and quick to bring our flights.  There was a full bar at the time so we did not get much time to chat with him but when we did, the conversation was good.  We did talk to some of the wait staff and they were also cheerful and helpful.  In general, we felt like we were treated well and were welcomed.
It's a Wrap
We enjoyed High Horse Brewing.  There was a wide selection of good beer and food although it is a bit higher priced than we were used to.  We enjoyed the ambiance and it fit very well with the overall ambiance of Amherst.  Parking is a bit of a walk unless you get quite lucky but at least you have a lovely New England town to walk through on the way.
| | |
| --- | --- |
| Overall Rating | |
| Quality and Selection of Beer | |
| Quality and Selection of Food | |
| Family Friendliness (For those who care) | |

The Details
Address

24 N Pleasant St.
Amherst, MA 01002(413) 230-3034

highhorseamherst.com

Hours

Mon   11AM – 1AM
Tues   11AM – 1AM
Wed   11AM – 1AM
Thur  11AM – 1AM
Fri     11AM – 1AM
Sat     11AM – 1AM
Sun    11AM – 1AM