Watkins Glen is a picturesque little town in the heart of the Finger Lakes Region in Upstate New York.  Positioned at the southern end of Seneca Lake, this town is known for its beautiful Watkins Glen State Park (named one of the top three "best state parks in the United States" by USA Today) and the historic Watkins Glen International Speedway.  Not at well known, but building excitement, is the small empire being built by the Thayer family based around Rooster Fish Brewing Company.  If you would like to try the Rooster Fish brand, you have three options.  The Rooster Fish Brewing tap room offers beer and a limited menu of pub foods.  The Wildflower Cafe is a brewpub with an eclectic mix of burgers, pizza, and a variety of high end appetizers and entrees.  The third location, and the focus of this review, is Nickel's Pit BBQ.
Cheers:
Jeers:

Three different venues in Watkins Glen to suit any taste.
A wide selection of beers and huge portions of food to go with it.


Limited parking can provide a challenge on a Saturday night.
It can be a bit drafty at the tables near the door.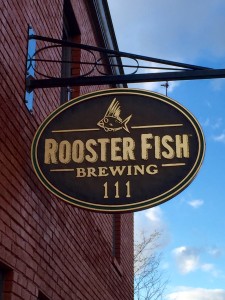 We arrived in Watkins Glen around dinner time on a Saturday evening and looked for about five minutes before we found a parking spot near the Rooster Fish tap room.  Our intention was to have a nice sit down dinner and we quickly found out that the main tap room was probably not what we were looking for.  The menu is limited to a few pub type items and none of them seemed to fit the bill so we went the 100 yards down the road to try the sister restaurant, Nickel's Pit BBQ.
The Nickel name comes from the childhood nickname of the owner, Nicholas Thayer.  The inspiration for this BBQ joint came from Nicholas traveling around the country for his corporate job, falling in love with Bar-be-que and wanting to bring this style to Watkins Glen.  The restaurant is in the old Watkins Glen fire hall and still has the original concrete floors, brick walls and exposed beams from when it housed the fire trucks.  There is a large patio out front for the nicer days and inside there is seating for around 80 with another 14 or so at the bar.  When we arrived at 5:30, we got the last open table and a wait list was forming.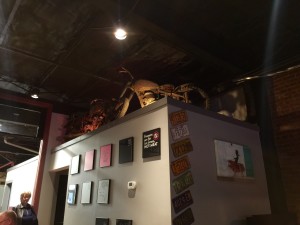 Everywhere you look in Nickel's there is something you didn't notice before.  From some crazy pig related art on the walls to antique motorcycles on top of the bathrooms, to the massive overhead doors that make up the front wall of the restaurant, this place is fun to visually explore.
Our waiter came over in no time at all and was very helpful explaining the menu and drink options.  Nickel's prides itself on using locally grown fresh ingredients.  We were shown the slogan on the back of our waiter's shirt, "Freezers are for ice cream, NOT MEAT" and told that there wasn't even a freezer on premises, fresh meats only.  The specialty of the house is their BBQ of course.  Pulled pork and brisket are featured on the menu but there are plenty of other things to choose from.  Salads, soups, curly fries, and smoked chicken wings are also a hit.  The food prices were quite reasonable with most appetizers in the $7-10 range and most entrees costing between $11-18.
The beer on tap is all from Rooster Fish.  The day we visited, there were twelve beers on tap.  The table below shows the complete list including a wide variety of flavors and a pair of seasonal ales.
| | | | |
| --- | --- | --- | --- |
| Wit | Witbier | 3.4% ABV | 15 IBU |
| Firehouse Blond | Blond Ale | 4.9% ABV | 18 IBU |
| Tripel Witch Belgian Tripel | Belgian Tripel | 8.3% ABV | |
| Belgian Gold | Blond Ale | 8.5% ABV | |
| Wee Heavy Scotch Ale | Scotch Ale / Wee Heavy | 6.5% ABV | |
| German Amber | American Amber/Red Ale | 5.5% ABV | |
| Pumpkin Ale | Pumpkin / Yam Beer | 4.7% ABV | |
| Pale Ale | American Pale Ale | 6.0% ABV | 30 IBU |
| Session IPA | Session IPA | 4.8% ABV | 40 IBU |
| Belgian American IPA | Belgian IPA | 6.5% ABV | 40 IBU |
| Original Dark Nut Brown Ale | English Brown Ale | 5.6% ABV | 34 IBU |
| Raven Black IPA | Cascadian Dark Ale | 6.9% ABV | |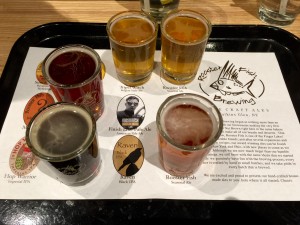 Beers are available by the pint and by the pitcher.  Pints run in price from $5 to $9 and pitchers range from $15 to $27.  You can also get a flight of three or more 4 ounce samples for $1.75 per glass.  This is not a printed menu item but if you ask, the flights are available and worth a shot.  One thing we liked was that the samples in the flight are delivered on a paper placemat with the label of each brew printed where it is placed by your server.  A nice touch that takes the guess work out of your tasting.
The beers we sampled were all nicely brewed and refined.  We scored an average of 3.75 on untapped over 5 samples.  There certainly was a range of beers for just about any taste from hoppy IPAs to some nice brown and red ales and for the lighter tastes, blonds and wits.  For the wine drinkers in the group there is a selection of nice wines available by the glass and bottle.  For a $10 corking fee, you can bring your own bottle.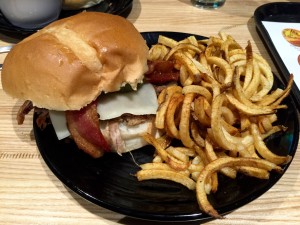 Just about the time we were tasting our first sample of beer, our food arrived.  The service was quick, almost too quick.  We timed it, from order to food on the table was fine minutes.  We didn't even have time to talk and try a couple beers from the flight and we were making room on the table for some big plates heaping with food.  First world problems.
We both had ordered the same thing, the Cuban sandwich.  Pulled pork BBQ, double smoked bacon, dill pickle, and Swiss cheese on a roll with a side of crispy curly fries.  There were three types of BBQ sauce on the table from mild to spicy hot to top it off.  Nickel's did not disappoint with their flavor or portion size.  This was a substantial meal for only $11 each and the BBQ was quite good.  Overall we left happy and just a little too full.
It's a Wrap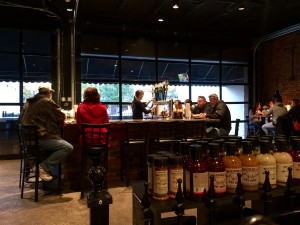 Overall, we found Rooster Fish Brewing and Nickel's Pit BBQ a winner.  It will probably never beat our Jerlando's as our favorite restaurant in Watkins Glen but if you want some good BBQ accompanied by some good beer, this is a stop you should make.  We found the service to be friendly and helpful, if not a bit too quick.  Everything from the atmosphere to the food left us pleased and we didn't feel like the bill was out of line for what we had.  The only downers were the occasional cold gust from the door and the parking that plagues every business in Watkins Glen.
| | |
| --- | --- |
| Overall Rating | |
| Quality and Selection of Beer | |
| Quality and Selection of Food | |
| Family Friendliness (For those who care) | |

The Details
Address

Nickel's Pit BBQ
205-207 N Franklin St.
Watkins Glen, NY 14891(607) 210-4227

Hours

Mon – Closed
Tue – Closed
Wed – Closed
Thur – Closed
Friday    5:00 – 9:00 PM
Saturday    10AM – 2PM, 5 – 9PM
Sunday – Closed