The word of the day is hops and it's brought to you by the letter E (and the Endless Brewing Company in Montrose, Pennsylvania). Just off the beaten path on Route 29, this microbrewery is a short drive from the I-81corridor. If hoppy beers are your thing, it will be well worth the drive to sample the beers at Endless Brewing Co.  Just keep in mind when you go, this spot is small and (when we sampled) all of the beers are hoppy.  Hopefully the presence of hops is not understated in this opening paragraph.
Cheers:
Jeers:

All (most) of their beers are high on the hops content if you like that type of brew.
Free samples.


All (most) of their beers are high on the hops content if you don't like that type of brew.
A true micro microbrewery, this is one of the smallest tasting rooms we have seen.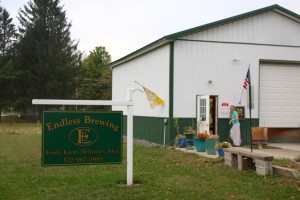 Endless is a small brewery with a very small tasting room but this seems to work for them.  The brewery is housed in a green and white metal clad pole barn six and a half miles into Pennsylvania on Route 29.  The owners, Jon Winans and Morgan Kelly opened their doors in June 2012 naming the brewery after the Endless Mountains region they call home.
The building houses their brewing operation and their tasting room.  The tasting room has a couple of tables just inside the door to sit and enjoy a beer or two, and a small bar at the far end of the room.  The bar itself was cramped on our visit with seven people standing around it and seemed crowded on the other side with two folks serving.  The bar top, made from local blue stone, was quite unique and very fitting for this area.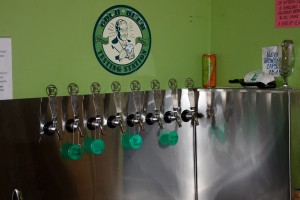 There are eight taps at the end of the bar but on the day we visited, there were only four beers  tapped.  There were, however, additional flavors for sale by the can.  We found it a bit frustrating that the board listing the beers on tap was not up to date with two of the beers listed being replaced by others and not changed on the list.  The beers available on that day are shown below.
| | | | |
| --- | --- | --- | --- |
| Painter Hill Porter | American Porter | 5.2% ABV | |
| Vacation Inspiration | White IPA | 8.0% ABV | 62 IBU |
| Hop Seance | Belgian Pale Ale | 5.6% ABV | 36 IBU |
| Grasshopper Pale Ale | American Pale Ale | 8.8% ABV | |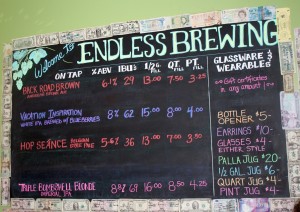 The beers themselves were all hoppy.  Even the Porter, which we would expect to be low on the hops scale was hoppy and bitter.   While we can appreciate the craftsmanship put into a hoppy brew, and other folks tasting enjoyed the Endless beers very much, we left disappointed because their style was not in line with our preference.  That said, as we discuss their beers with IPA lovers, Endless gets rave reviews.  We will also make a note that at the time of publication of this review, there are several beers on tap at Endless that are much lower on the IBU scale and likely have a less hoppy taste.
As mentioned in the cheers section above, the samples we tried were free.  That is a great plus for a small brewery like this.   Once you try the beers and determine what you like, your options are varied.  By the pint, their beers usually range from as low as $3.25 up to $4.25.  Growler fills will run $12 to $16 for a 64oz. and $6.50 to $8.50 for a 32oz.  All of these prices are on par with the other breweries in the region.  Endless also offers a wide variety of merchandise for sale: shirts, earrings, glasses, and four styles of growlers are available.  They even sell pint sized growlers, something we have not seen anywhere else in the area.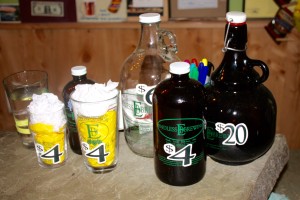 The service was friendly, helpful, and attentive. As we mentioned above, there were two ladies behind this very small bar and there was no trouble getting service when you wanted it.  In general the tasting room and the adjoining restroom were clean and adequate, albeit very small.
In the remainder of the building you will find the brewing operation.  It appears to be a five barrel system and there were folks hard at work in there, even at 8:00 pm on a Saturday evening.  We could not see the fermenters so it is hard to tell what their full capacity would be.

It's a Wrap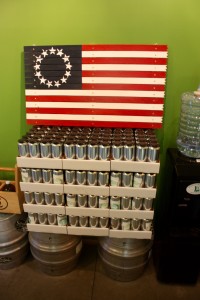 Hops.  If you love it, we believe you will enjoy a visit to Endless Brewing Company.  Overall this small microbrewery is a decent stop and depending on when you visit you will be able to try a variety of beers, possibly with more variety that the day we sampled.  The people behind the bar were friendly and happy to give you free samples, always a nice touch.  Did we mention the beer is hoppy?
| | |
| --- | --- |
| Overall Rating | |
| Quality and Selection of Beer | |
| Quality and Selection of Food | N/A |
| Family Friendliness (For those who care) | |

The Details
Address20610 PA-29
Montrose, PA 18801(570) 967-0985Endlessbrewing.com
HoursMon   Closed
Tue    12:00 – 7:00 PM
Wed   12:00 – 7:00 PM
Thu    12:00 – 7:00 PM
Fri     12:00 – 8:00 PM
Sat     12:00 – 8:00 PM
Sun    Closed