The Farmhouse Brewery is a fun small town tap room in Owego, New York.  The beers they brew and serve are all formulated from locally grown ingredients and their selection is quite varied. The environment is fun and personal with the brewmaster and owner on hand to answer your questions and make suggestions.  They don't serve food so if you are looking for dinner and a pint, you would need to pair this with another spot.
Cheers:
Jeers:

Very personable owners and staff, fun environment
One dollar tastings keep the cost reasonable to try most or all of their brews
A wide variety of styles and flavors are on tap and all made from local ingredients

Parking is a bit limited so on a busy day you might have a hike to get there
The lack of food makes this a fun stop but not a destination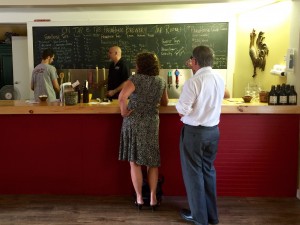 The Farmhouse Brewery in Owego, New York is a neat place to visit but blink and you will drive right on by. Located at the corner of George Street and North Ave., this little tap room is nestled behind Ice Cream Works and the parking is behind the building. The brewing happens in the nearby town of Newark Valley and kegs are distributed to nearby restaurants and bars but you can sample and purchase all of their current brews right there in the tap room. You can stop in and have a tasting or fill your growlers Wed-Thu 3-7 pm, Friday 3-8 pm, Saturday noon-8 pm, and Sunday 1-6 pm.
Brewmaster Marty Mattrazzo and his wife Natalie were working the taps while we visited and were very helpful describing attributes of each label and helped those in our party who were not as beer savvy as others to find samples that they might like the best.
Brown Eggs are Local Eggs and Local Eggs are Fresh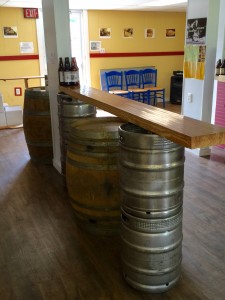 Ok, so there are no eggs in beer but there are no catchy slogans about local hops. What Farmhouse Brewery does to set itself apart is that all of their ingredients are locally grown, many grown by themselves in the Newark Valley location. All of their hops and barley are grown locally and they malt each batch personally.
This July marks the one year anniversary of Farmhouse Brewery beginning production and they have made a good show of it. On our visit, they had 10 brews on tap and 2 guest taps of a local hard ciders. Available for tasting was the following:
Boondock
Wild saison
ABV 5.83%
IBU 12
O-We-Gose
Cranberry gose
Unknown
Unknown
Combine
Wheat ale
ABV 5.34%
IBU 29
Country Mile
Pale ale
Unknown
Unknown
Crazy Daizy
Belgian tripel
ABV 9.5%
IBU 35.9
Shed Burner
Belgian dubbel
ABV 4.8%
IBU 31.2
Ayam Cemani
Black saison
ABV 4.49%
IBU 20
The Barb
Rhubarb Berliner weisse
ABV 5%
IBU 10
The Angus
Sour black saison
ABV 4.8%
IBU 15
Crazy Daizy Went Wild
(Bottles Only)
Sour tripel
ABV 8.5%
IBU 15
Commander Bovine
Double IPA
ABV 7.1%
IBU 45
Farmhouse offers a variety of ways to try their beers. Two ounce samples are $1 each, a flight of any four 4 oz. pours is $8, by the glass you will pay $6 for a pint or a 10oz. depending on which label you choose, bottles run between $9 and $10, and growlers are available as well. To buy the vessel, you will pay $3.50/$6 for a half or full size and filling runs between $8-11 for a half and $16-22 for a full.
One thing we found interesting was that they offer up even their less shining achievements and some variations on the originals. The one that stood out was Shed Burner. This batch was intended to be called Barn Burner but when the Belgian Dubbel rolled out at an ABV of 4.8% rather than the intended 7.2%, it was renamed from barn to shed and put on tap. We love that idea and it reminds us a bit of the Lagunitas Sucks story. Farmhouse also likes to roll out variations on brews like the Belgian Trippel Crazy Daizy and its sour counterpart Crazy Daizy Went Wild. This makes for a fun comparison and discussion.
Cards Against Humanity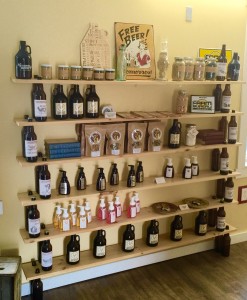 While we enjoyed sampling 8 different beers while we were there, we have to say what stood out to us was how at home Marty and Natalie made us feel. Natalie shared pictures of her son with us, we talked about the area, a local minister, and there was even a discussion about Cards Against Humanity. They gladly answered questions about their beers, their process, their lives, and the whole time kept us all laughing and having a good time. When it was time to settle the bill, we didn't feel like we gave them anywhere near enough to cover what we took from the experience.
The only food they serve is popcorn so don't come looking for a meal, it's just about the beer but they do have a display of other products for sale including some hand soaps that people rave about, crafts, and dog treats from Hungry Hound Beerscuits made from beer grains. When you are all done however, you could always stop next door and get some ice cream from Ice Cream Works to cap it off.
It's a Wrap
We had a good time at the Farmhouse Brewery. The non beer lovers in our party really enjoyed the hard ciders and we all enjoyed the experience. The beer was solid, all ranking between 3-4 stars in our Untapped App and there was a very nice variety, even the "mistakes". We found this a worthwhile stop and we will go back again but we will not bring the kids, there is not much for them to do at the Farmhouse Brewery.
| | |
| --- | --- |
| Overall Rating | |
| Quality and Selection of Beer | |
| Quality and Selection of Food | N/A |
| Family Friendliness (For those who care) | |
Visit their website at http://www.thefarmhousebrewery.com