The Frog and Onion Pub has a lock on the market being the only brewery in the entire nation of Bermuda.  Located in a 19th century building in the Royal Naval Dockyard, this brew pub has a huge menu of food and drinks but it will not be kind to your wallet.  With only five year round labels of beer and one seasonal, we would have liked to see a wider variety of beers brewed.
Cheers:
Jeers:

The setting is magnificent in a building rich with historic charm
Overall the food is varied and receives high marks
You can get a 50 ounce beer…

The prices are high however all prices in Bermuda are high
With only six different beers available, the selection was a bit lacking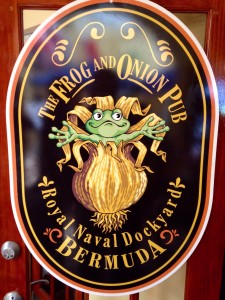 The Frog and Onion Pub is the home to The Dockyard Brewing Company, the only beer brewed on the island nation of Bermuda. Located in The Royal Naval Dockyard, Bermuda, this brewpub restaurant is housed in a cooperage built in 1853 and one look at the stone walls and you can tell this is not a reproduction. A cooperage is a workshop that builds and repairs wooden barrels, kegs, and casks and is a fitting home for a brewery. The Frog and the Onion was opened in 1992 and is named after the slang terms for the nationalities of the two founders, the Frog (a Frenchman) and Onion (a Bermudian).
The Royal Naval Dockyard at Kings Wharf Bermuda is the main tie-up for the cruise ships trailing to the island paradise and the Frog and Onion Pub is a hotspot for cruise travelers and locals alike.
Bring On the Brew
The beers at the Frog and Onion Pub are one of their many featured drinks. During our visit, the F&O had 6 craft brewed beers on tap and they spanned a wide gamut of favors, styles, and tastes. Being a true English pub, all of the beer is served warmer than you would expect if you are accustomed to U.S. brewpubs but being on a British controlled island, you should expect that and embrace it. Overall we found the beers decent and most hit in the 3-4 out of 5 range in our Untapped app. On our visit, they had the following on tap:
Whale of a Wheat (German style Hefeweizen, ABV 4.5%)
St. David's Lager (American Amber/Red Ale, ABV 4.8%)
Somer's Amber Ale (English Bitter, ABV 5.0%)
Trunk Island Pale Ale (English IPA, ABV 5.8%)
Black Anchor Porter (English Porter, ABV 6.2%)
Imperial Black IPA (seasonal only, Black IPA, ABV 7.8%)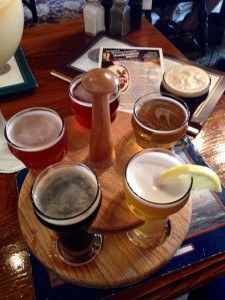 Unlike the American obsession with published Alcohol By Volume (ABV) and International Bittering Units (IBU), Bermuda does not have the same level of interest in measurement and characterization and these values are notably missing from their beer list so the numbers above come from the Internet and their validity can not be verified.
If you visit the Frog and Onion Pub during different times of the year, several other seasonal beers will replace the Imperial Black IPA including a Raspberry Wheat or the Frog Bock Winter Warmer.
If You Have to Ask, You Probably Can't Afford It
Nothing in Bermuda is cheap. This is an island with no source for fresh water except collecting the rain that falls on their white roofs. There is little or no food production, almost no industry except tourism so as a vacationer, you can expect to pay a pretty penny for anything you want or need. That said, the beer pricing was not too out of line with what we expect to pay for a pub brew in the U.S. Any of the beers on tap go for $8.95 for a true English pint (20oz.) or $4.95 for a 9oz. 1/2 pint. (U.S. Dollars and Bermuda Dollars are used interchangeably on the island). There is also a flight available that lets you sample all six labels for around $12 as we recall. If you want to take a challenge, you need to order the "Big Ben" which is a 50oz. monster. There is no pricing for this one on the menu but will ring up at $30 for the beer and the Pilsner style glass is yours to take home as a souvenir. You can purchase a growler but if you are a cruise ship passenger, you can not take it on board the ship unless it is empty.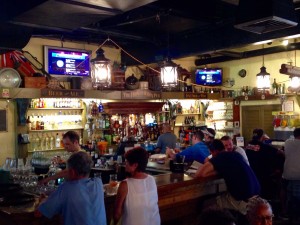 While on the topic of big and expensive drinks… Beer is not the only beverage available at the Frog and Onion, they have a full bar, 24 labels of wine available by the glass or by the bottle, and an array of frozen specialty drinks, shots, and frozen delicious treats. Featured amongst these is the Big Mama, another unpriced gem on the menu featuring a take home souvenir glass. The Big Mama comes in five flavors that include Bermudaized piña coladas, margaritas, and fruity daiquiri style drinks but the local treat is the Stormy Mama. One of the famous signature drinks of Bermuda is called the Dark and Stormy, it's a mix of Gosling's Black Seal Rum and Barrit's Ginger Beer and this massive 45oz. Stormy Mama packs a punch of rum and a diabetic coma worth of sugar. How much is this one you ask? This one will set you back $35 a glass (and there were tables near us with 4 of these being consumed). A tasty treat, but not everyone is ready for a drink the size of the average human head so for a lesser challenge, you can get a variety of frozen drinks in a more manageable 15oz. size or share…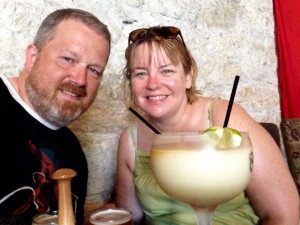 Taking a Step Into an Old English Pub
If you have any room in your stomach after your Big Ben or Big Mama, the F&O has an extensive menu of traditional English and American fare. Start it off with Frog Nachos (no there is no actual frog meat on there) or a Scotch Egg, or even deep fried pickles. Follow up with one of five varieties of pot pie, fish and chips, bangers & mash, or Brisket in a Yorkie. Much of the menu was Greek British to us but there were six pages of good looking options to choose from. Overall, the food came in very ample portions and was priced in a true Bermudian way, pretty high. On average, appetizers would run you around $12 each and entrees averaged around $20 a plate.
The wait staff was very attentive and quite pleasant. They were happy to explain menu items and discuss the beers and, upon request, would give you the magical code to access the wifi. Overall the atmosphere inside the F&O was family friendly, loud but not obnoxious, and a little too warm on a hot day. There was one table that was set inside a massive fireplace and it looked like a fun spot to enjoy the Pub from.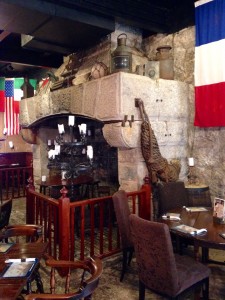 It's a Wrap
The Frog and Onion Pub was just fun, the building is charming and left to feel like the 1850s building that it is, the beer, the frozen drinks, the food are all good and if you can get past the sticker shock, very much worth sampling. The only thing I would do different next time is skip the flight and go straight for the Big Ben.