The Ithaca Beer Company is now located in their new location just on the south end of Ithaca, New York.  This is a family friendly place with outstanding food, good service, and their impressive selection of beers, sodas, and ciders is hard to match.
Cheers:
Jeers:

Outstanding food with several items hitting the "best I've ever had" level
Family friendly establishment with plenty of outdoor seating for those good weather days
Large selection of beer and other beverages on tap

Summer time air conditioning is a problem with the system not able to keep up
While the service was good overall, quicker refills on beverages would have been a plus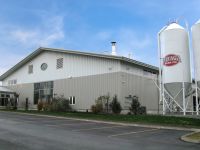 Ithaca, New York, nestled at the southern tip of Cayuga Lake in the Finger Lakes region. Renowned as a college town, Ithaca is home to Ithaca College and the prestigious Cornell University. The town is diverse in its culture, its culinary delights, and its growing craft beer culture. One of the gems of Ithaca is certainly the Ithaca Beer Company.
The Ithaca Beer Co. Taphouse opened in October 2012 and operates Wednesday through Sunday from noon until 9:00 PM showcasing a wide variety of beer and great food. The brewery takes up about half of the building while the other half is a bar and restaurant called The Taphouse. The Taphouse has three distinct areas, an indoor dining room with seating for just over 50 guests, a bar including an area of tall tables with seating for around 50 and standing room for many more.  Seasonally, an outdoor patio area is open with room for 75-100 people.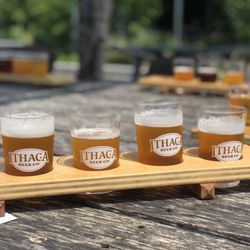 Your mamma so harry, Sasquatch tried to take her picture.
The selection on tap is solid. The day we were there, there were 12 beers on tap, four different IPAs, red and dark ales, pilsners, laggers, and a Scotch Ale among others. Additionally they had a local hard cider and for the non-drinkers, root beer and ginger beer. Many of their famous beer labels are on tap, Flower Power, Nut Brown, Apricot Wheat, and CaskaZilla. The selection is enough to meet most tastes and for those who like to try a variety of beers, there are two different pre-selected flights available or the option to design your own flight. The pricing for the drafts range from 8oz. glasses as low as $2.50 to 16oz. brews up to $7.00. Flights range from $7.00 to $14.00 and if you would like to bring home a growler, you can buy the glass there for $7.00 and fill it for $8.00 and up.
The gem of the night was their Cask Beer of the week, SaScotch. Every Thursday, Ithaca Beer Co. releases a special cask-conditioned ale that has been secondarily fermented to bring out some creative favors. This special brew is served a bit on the warm side to "enhance its flavor and aroma" and this was a huge hit with the crowd this week.
A whole different kind of flight
We requested a table for two in the dining room and were seated after about a 35 minute wait, not too bad for a beautiful Saturday night in the summer and we spent the wait chatting with several patrons including folks from as far away as Syracuse and New York City. The wait was shorter for outside tables.
While the service was decent, drinks were ordered and delivered within 5 minutes of seating while we reviewed the menu, we did feel our glasses were empty a bit too long before a second round. A bit more attention needed to be paid to the beer needs of their guests. The folks behind the bar and the wait staff is very adept at walking your through the beer selection and helping you pick something you will like.
This was our second trip to the Taphouse. The first time we sampled the burgers and bangers, so this time we wanted to try something different and we ordered the Wood-Fired Pizza. The large wood fired pizza oven can be seen in the kitchen and there are 5 varieties of pizza available. We sampled the White Pizza (garlic herb oil, house smoked provolone, sautéed shiitake mushrooms, and banana peppers) and the Pulled Pork Pizza (oven roasted tomato sauce, NY cheddar cheese, pickled jalapeños, and BBQ pulled pork). Both were excellent and a lot more food than we expected, there were plenty of left overs to take home.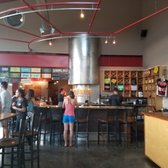 Hands down, our favorite item on the menu is the $9.00 Fry Flight (and it was on the table less than 5 minutes after we ordered it). This appetizer is a huge basket of hand cut fries served with three sauces, taproom ketchup, chipotle aioli, and garlic herb aioli. While we have not been disappointed with any of the food we have ordered on either visit, this fry flight combination is amazing and is the one item that we talk about to all our friends.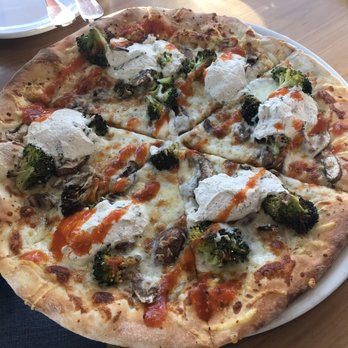 The menu is limited but it has something for just about everybody. Soups, salads, appetizers, pizzas, burgers (vegan or beef), pulled pork, bangers, desserts, and $6.00 kids meals.
All Hot and Bothered
While on the topics of kids meals, this is a truly family friendly place. There were dozens of kids there from toddlers to teens. There were soccer balls, can jam, and games outside for kids big and small to play with and we only saw one occasion where a soccer ball flew into a table of adults knocking over a beer. They even have WiFi so your teen can Snapchat to their hearts content. Overall, the Taphouse was clean, the bathrooms are spacious and well kept and really looked pretty cool with the corrugated metal walls. The only real detractor from the experience was the temperature. It was hot day outside, 81 degrees and not a cloud in the sky but the heat inside was truly oppressive, I would guess around 85-90 degrees in the dining room. We felt like we spent half of our meal wiping sweat from our brows. It was much more comfortable outside. This may have been a short term air conditioning failure but I would probably still recommend eating outside. The service outside appeared to be good with 8-10 of the wait staff focused just on the patio.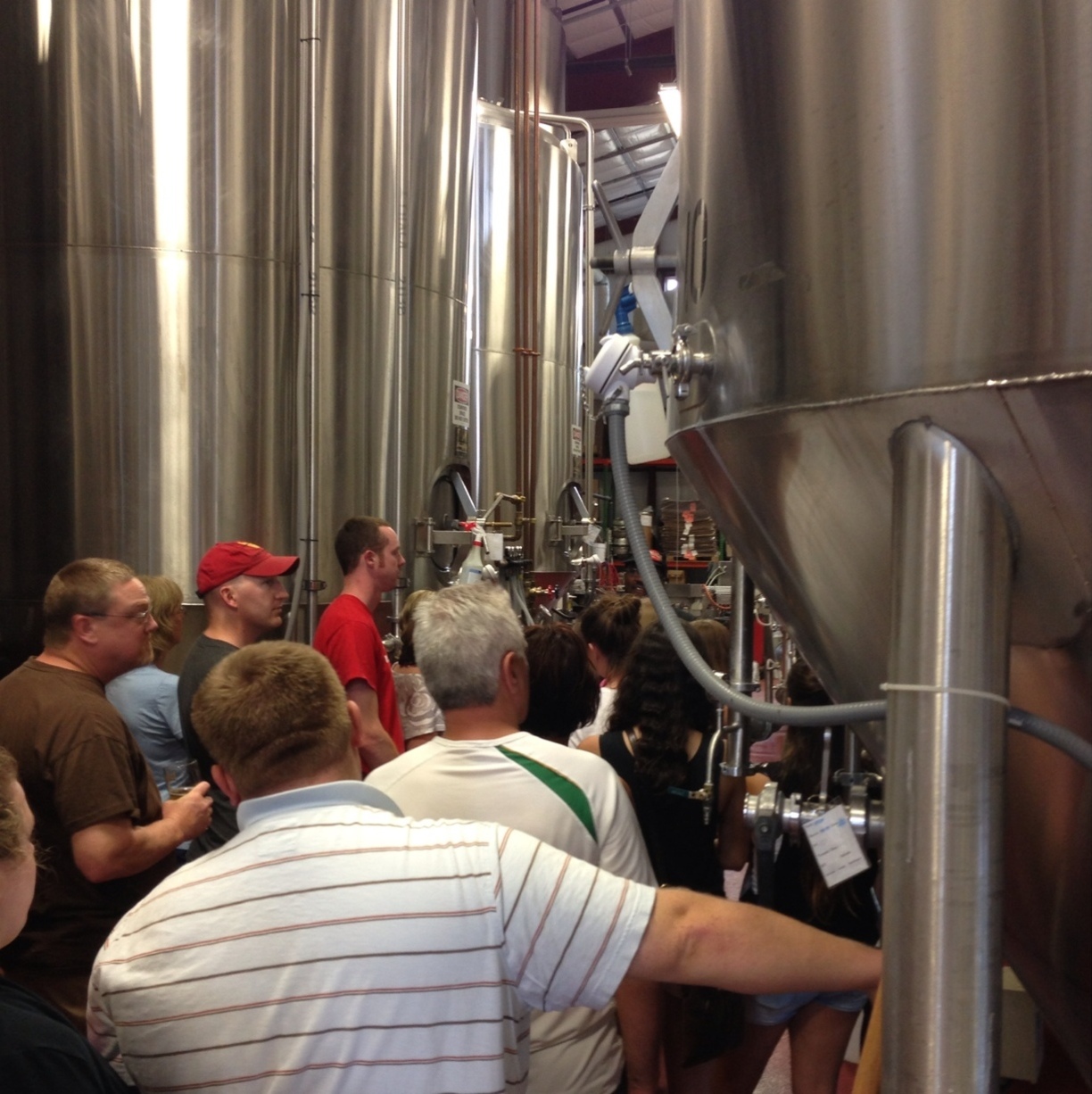 It's a wrap
Ithaca Beer Co. is one of our favorite Taphouse restaurants in the Finger Lakes Region and is worth an hour drive for dinner. The food is excellent all around and priced reasonably, the beer is varied and there seems to always be something new there to try. Aside from the lack of air conditioning on this visit, the atmosphere is boisterous and fun. We have never been in a Taphouse where more conversations spontaneously start with more random people, only in Ithaca.
| | |
| --- | --- |
| Overall Rating | |
| Quality and Selection of Beer | |
| Quality and Selection of Food | |
| Family Friendliness (For those who care) | |